NEW: For the first time available in America, we've brought over beefier cuts that turn A5 Wagyu into an experience and a meal. Shop now
Nearly all Japanese Wagyu imported to America centers around the so-called "hollywood cuts" -- Ribeye, New York Strip and Tenderloin. No matter what kind of beef (angus, etc), these cuts are prized for their marbling and tenderness. And with A5 Wagyu, they're so crazily marbled that it creates an overwhelming, quite memorable experience -- a melts-in-your-mouth, umami-packed sensation that has made Japanese Wagyu world-famous.
But for most people, this almost crushing level of marbling means you simply can't eat much of it before filling up. The fattiness of these cuts also masks another issue: a subtle taste and overall lack of, well, "beefiness."
This is we say that an A5 Wagyu New York steak is "as much an experience as a meal." But what if you're looking for more of a meal?
I've been fortunate to have as much Japanese Wagyu as almost anyone, inside or outside of Japan, and I'll let you in on a secret: for price-performance and overall culinary experience and satisfaction, I prefer the "B-cuts" when it comes to Japanese Wagyu. I'm talking about cuts that on an Angus steer would be considered braising cuts or stew meat. These cuts from an A5 Wagyu steer rank as some of the singularly best steak eating experiences of my life. And as you can imagine, I've eaten a lot of great steaks in my life.
Thus, when we're finally able to import Japan's 11-time Wagyu Champion -- Iwate-Gyu -- known for its remarkable sweetness, rich umami and clean finish -- we decided to do something that nobody has done before -- to bring additional cuts that are unavailable in the USA, and which produce this incredible mouthfeel, flavor profile and overall culinary experience that I know you'll love.
We are proud to continue our pioneering work that has brought Olive Wagyu from Kagawa Prefecture and A5 Wagyu Brisket from Kagoshima to the USA for the first time.
Iwate-Gyu Zabuton (Denver Steak)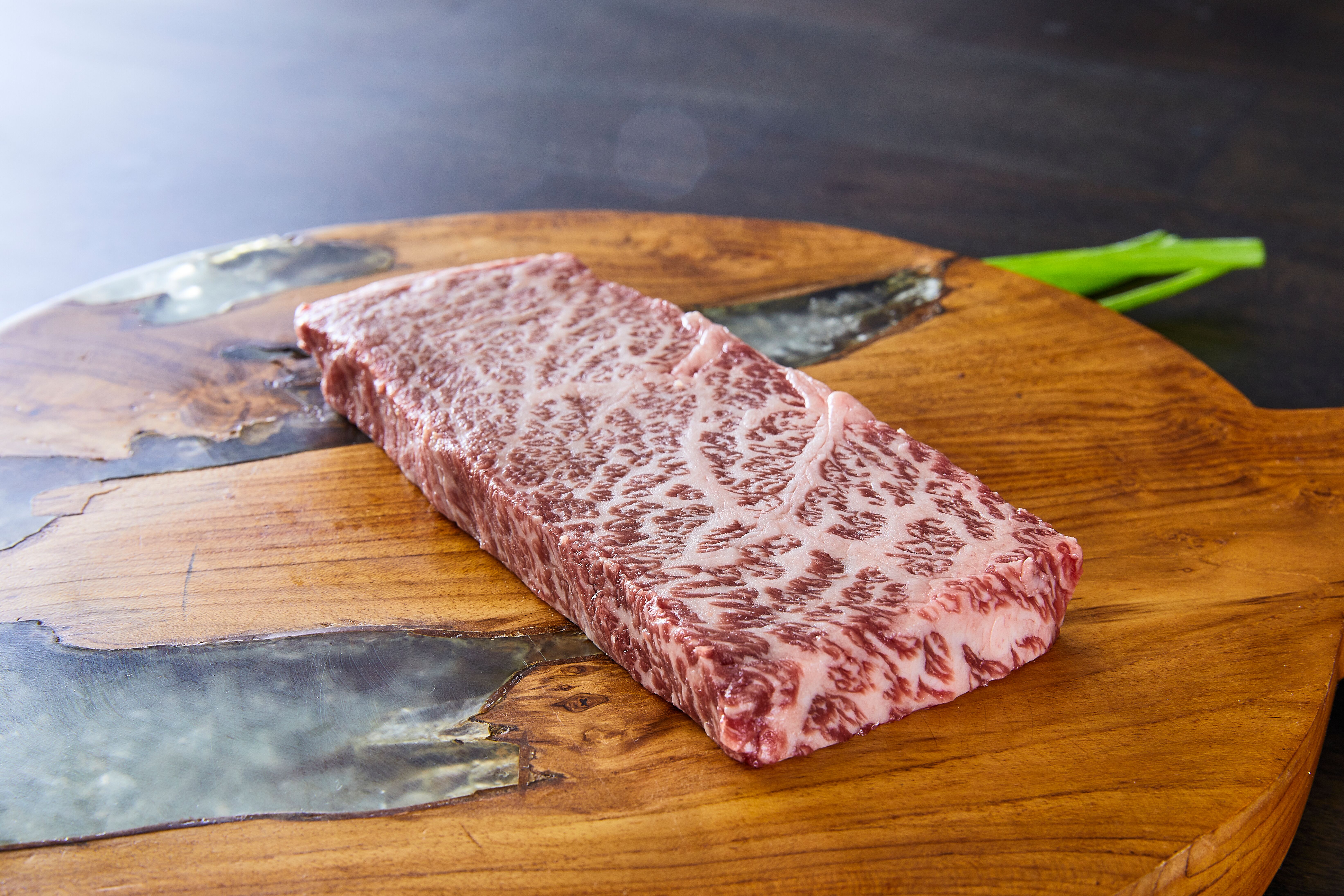 An incredibly tender flavor journey that is beefy but not overwhelming, with nutty notes on the bite and an umistakable umami aftertaste.
Shop now
Iwate-Gyu Chuck Steak


A clean-taste with a satisfying mouth-feel complements the well-rounded steaky flavor. Imagine an A5 Ribeye, but that you can eat much more of in one sitting.
Shop now
Iwate-Gyu Chuck Eye Steak


Like the Chuck Steak, a well-balanced flavor profile with equal parts beefiness, Wagyu sweetness and umami goodness. It's an experience and a meal.
Shop now
Iwate-Gyu Chuck Roll Medallions


These medallions present the perfect balance of A5 Wagyu's unique tenderness, balanced umami and sweet flavor, while bringing in a beefiness to satisfy the most discerning steak lover.
Shop now
Iwate-Gyu Chuck Strips


If A5 Wagyu was sold in candy stores, it would be these strips. A satisfying mouth-feel, well-balanced flavor profile, melts-in-your-mouth tenderness and pre-cut into strips that are perfect for grilling and sharing hot off the grill.
Shop now