We recently got in an exclusive batch of 7-8 oz lobster tails — nearly twice the size of standard tails — just in time for the holidays! These are extremely rare and hard to find, making up just 1% of lobster production.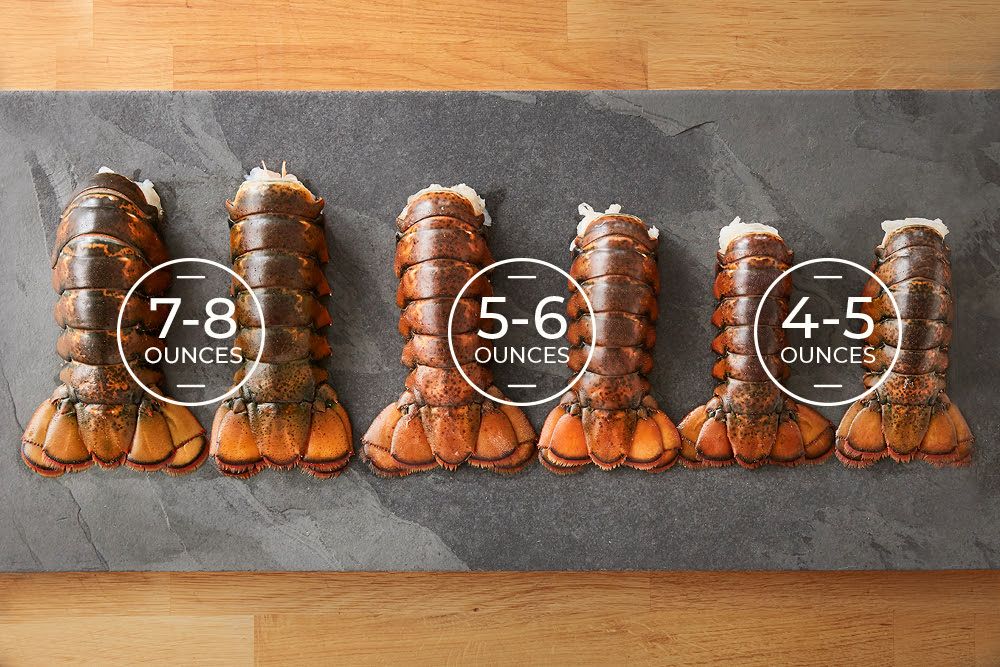 We feel especially lucky to be sourcing from Ready Seafood directly so that our customers can try these extra meaty tails for themselves, even if they don't live in the Northeast. Lobster makes for an elegant date night entrée but is easy to cook and super versatile for a weeknight meal too!
Curt Brown and Brendan Ready (cousins, lobstermen, and key leaders at Ready Seafood) graciously showed us their favorite ways to prepare this shellfish favorite on Instagram Live — and had us all drooling in the process.
Check out 5 of their favorite recipes below (and find their full cooking demo video at the bottom of this post)!
Cedar Planked Honey Butter Split Lobster Tails
Elevate the classic lobster + melted butter combo by adding a spoonful of honey to the mix plus the sweet smokiness of a cedar plank!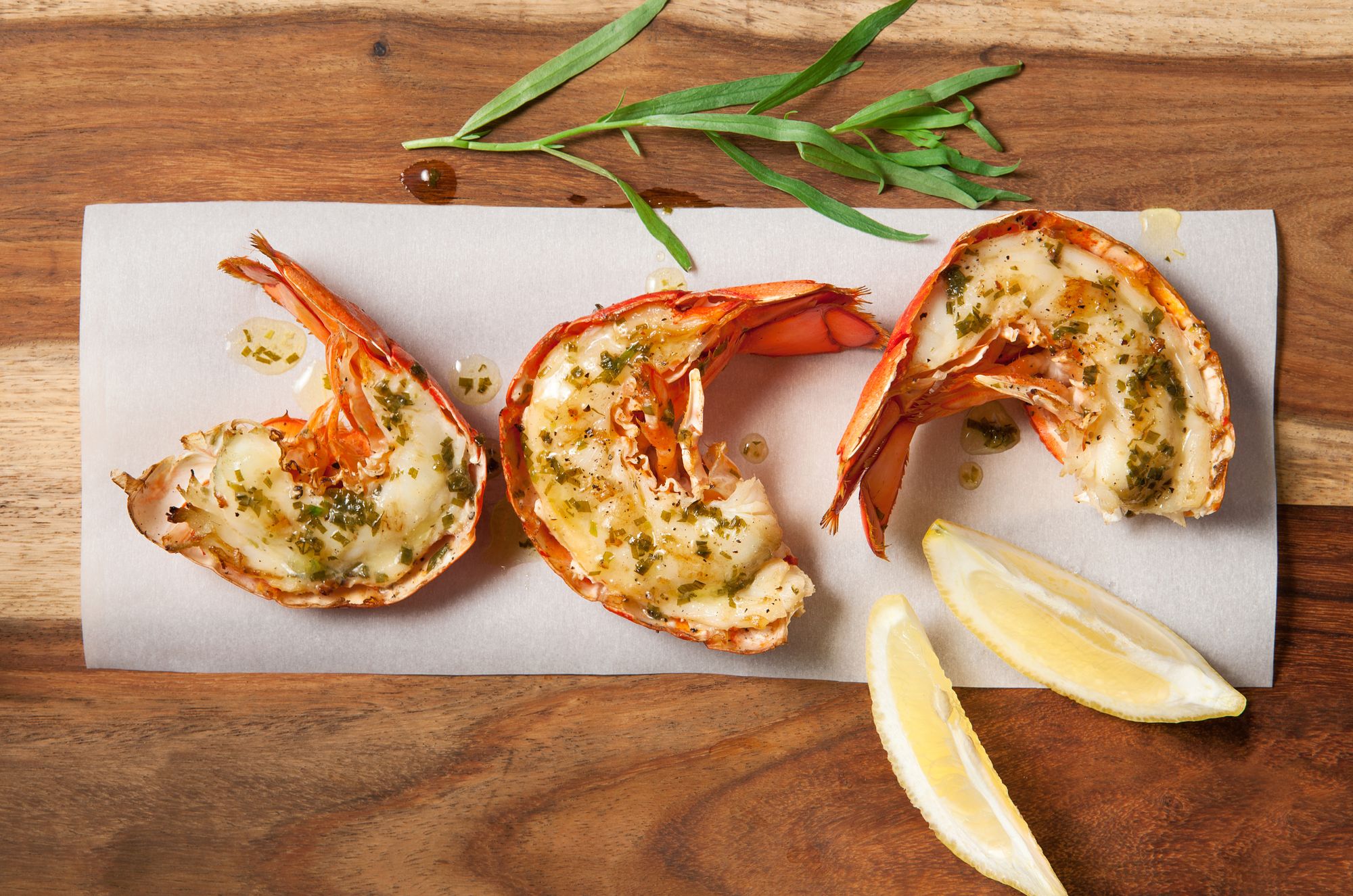 Soak Cedar Planks for at least two hours before cooking
Thaw lobster tails for 24 hours in the fridge before prepping
Once thawed, split the lobster tails in half using a sharp chef's knife by starting at the top of the tail and cutting down through to the bottom.
Drizzle the meat in the tails with a little fresh lemon juice.
Preheat the oven (or even better the grill) to 375
Lay the split lobster tails meat side down on the cedar plank.
Place the cedar plank directly on the grill or oven rack (if in oven, place a cookie sheet below the planks to catch any drippings) and cook at 375 for 12-15 minutes.
Melt butter and a spoonful of honey while tails are cooking
Remove split tails from the cedar planks and drizzle with honey butter. Feel free to garnish with cilantro or dill.
Bacon-Wrapped Cold Cracked Lobster
Sweet, tender lobster with salty, crispy bacon...need I say more?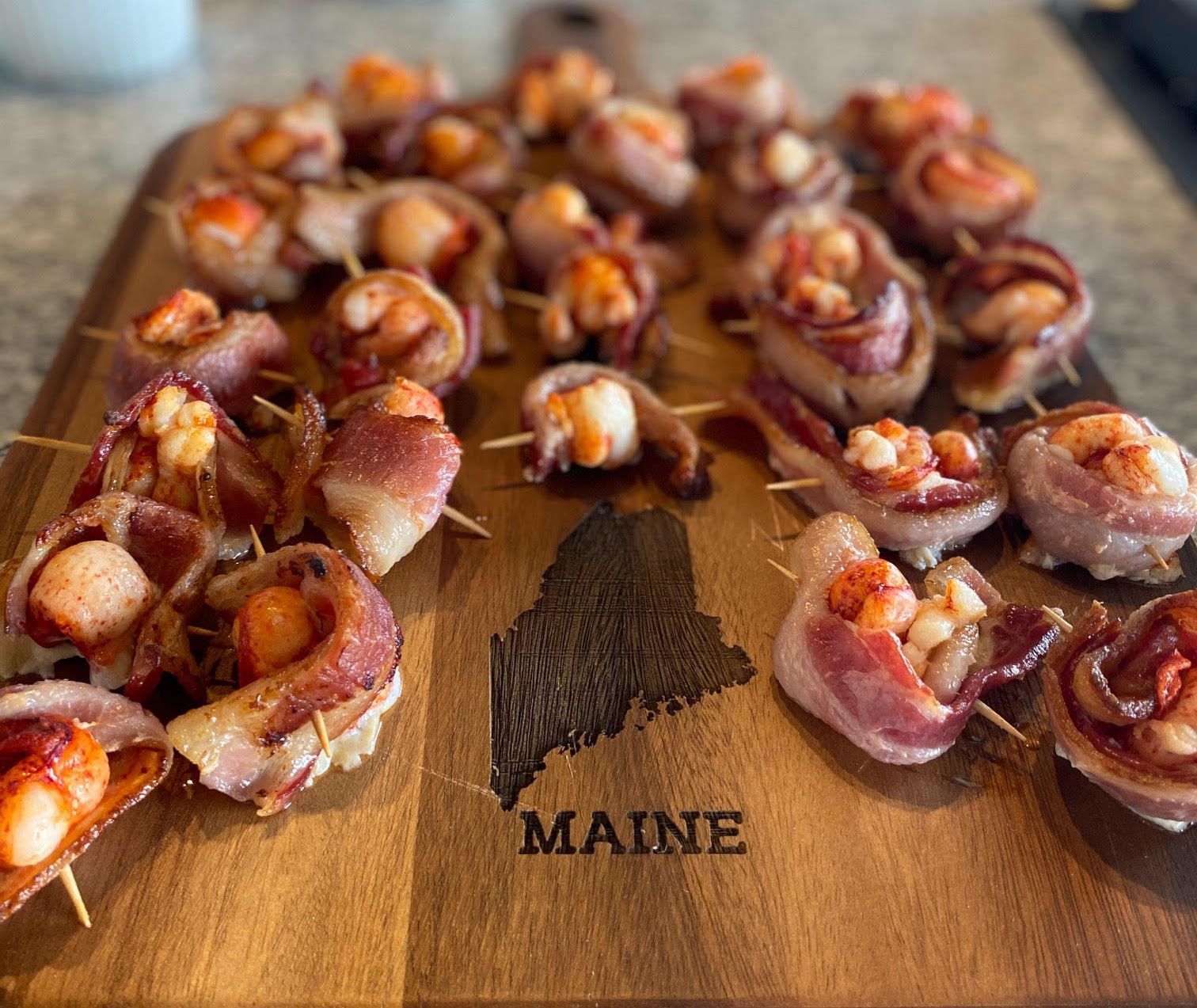 Wrap small piece of raw bacon around the raw cold-cracked lobster and secure with toothpick.
Bake at 375 for 12 minutes or until crisp.
Saddleback Lemon Dill Lobster Tails
Raising the meat on the top of the shell makes a great center of plate meal and pairs well with your favorite Crowd Cow steak.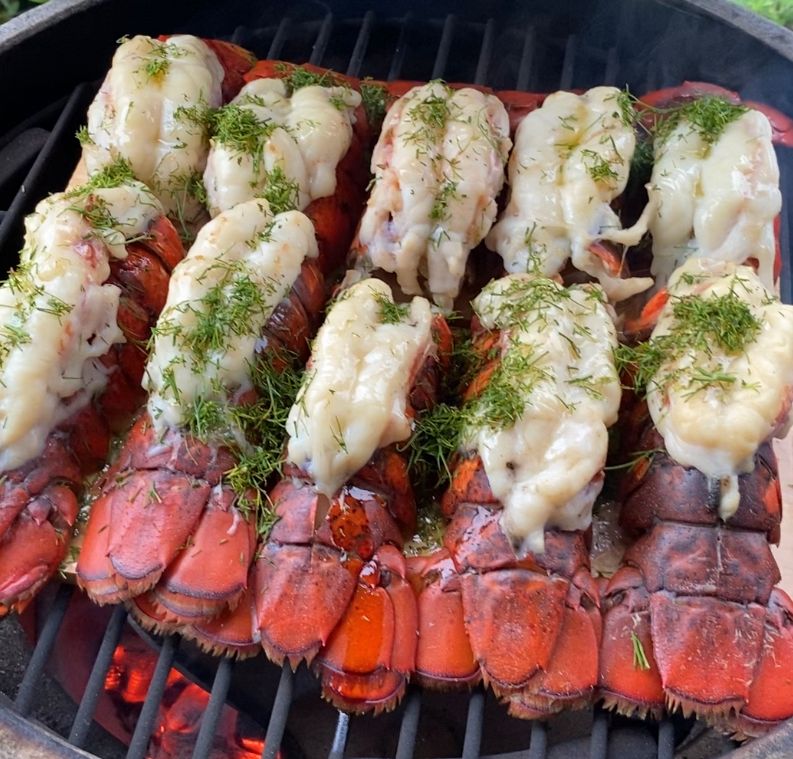 Thaw lobster tails for at least 24 hours before cooking
Once thawed, cut the top of the lobster shell from front to back using kitchen shears.
Once cut, take a standard spoon and work around the entire shell, separating the meat from the shell.
Raise the meat through the top of the shell and rest it on top of the shell
Drizzle some fresh lemon onto the meat, sprinkle some chopped dill and place one lemon slice on top of the meat.
Bake the tails at 375 for 12-15 minutes
Cowboy Ribeye Surf and Turf
Reverse searing is our go-to method for cooking a steak, and the searing step offers the perfect opportunity to quickly cook up cold cracked lobster on the side for a juicy, flavor-packed meal!
Thaw Cold Cracked Raw Lobster meat overnight in fridge (also want to thaw whatever cut of meat you suggest for whatever amount of time you suggest)
Grill/Bake Ribeye at 250 for until an internal temperature of 115 degrees is reached.
While ribeye is cooking, prepare pan on the stove on high or once the ribeye reaches 115 degrees, remove from grill and crank the grill temperature.
Melt some butter in the hot pan and then sear the ribeye for 30-60 seconds on each side.
While searing the ribeye, add the Cold Cracked raw lobster meat to the pan and sear for 60-90 seconds. Raw lobster meat cooks up quickly so do not sear for any more than 90 seconds.
Let the ribeye rest for 5-10 minutes.
Pile the cooked lobster on top of the ribeye and drizzle with your favorite butter or sauce, we recommend a horseradish cream sauce to add a little kick!
Lobster Mac n Cheese (Curt's Favorite Recipe)
Rich and creamy with delicious bites of cold cracked lobster folded throughout, this dish easily serves 5-8 individuals and makes a great side or stand alone meal!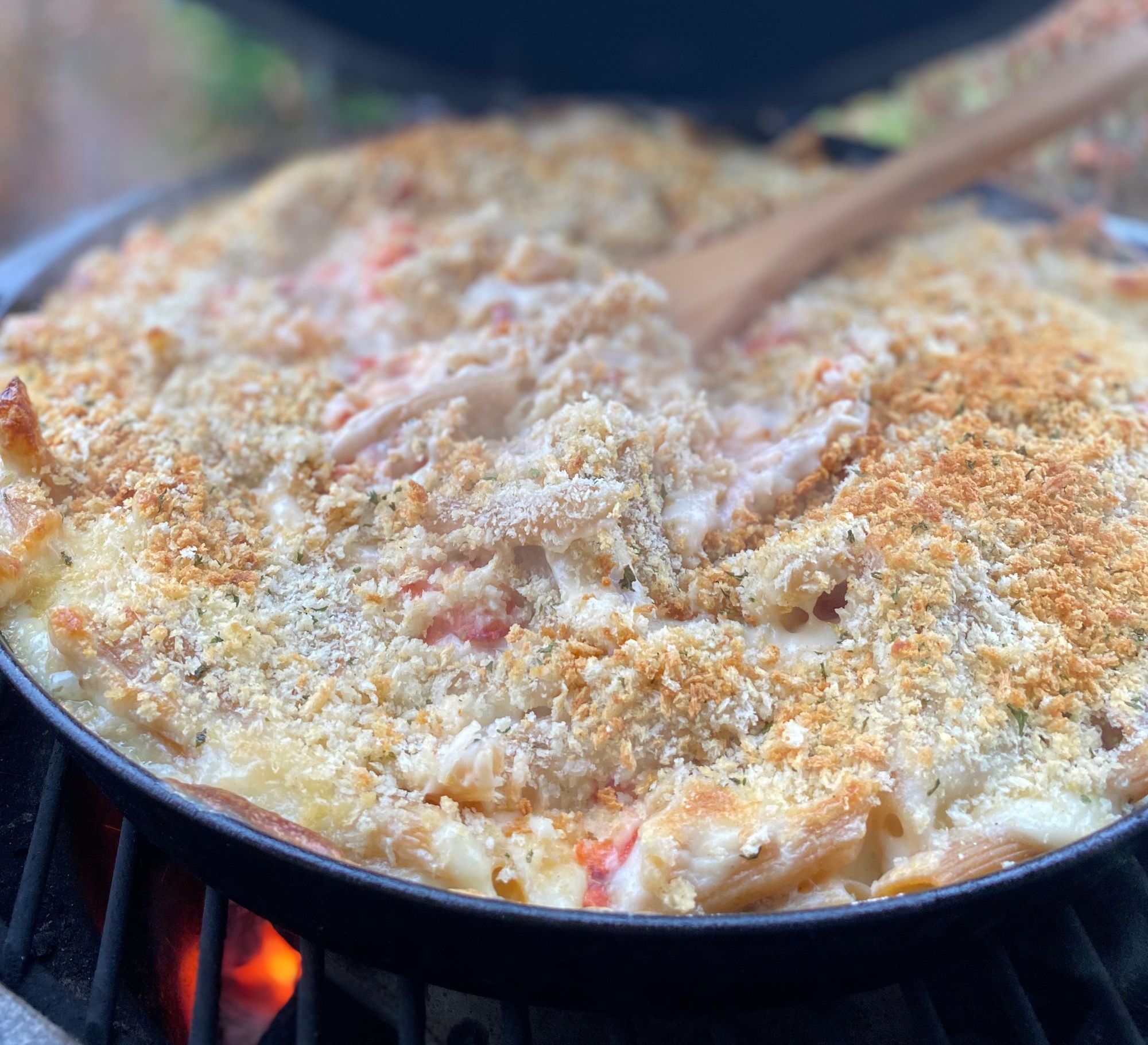 1 stick of butter
1/2 Cup flour
1 quart of milk
8 oz. Cheddar Cheese
8 oz. Smoked Gruyere Cheese (difficult to find smoked gruyere but definitely worth it. Shred your own cheese rather than buying pre-shredded just for the added meltiness factor!)
8-16 oz. Cold Cracked raw lobster meat — you can decide here...8 oz. is enough but 16 oz. is better :)
your favorite bread crumbs
Thaw Cold Cracked Raw Lobster Meat overnight in the fridge
Cook 16 oz. of your favorite pasta
Warm (don't boil) 1 quart of milk on the stove
Melt 1 stick butter in a large pot, add 1/2 cup flour and whisk for 1-2 minutes
Add warm milk to butter and flour in large pot and whisk 1-2 minutes (until the mixture starts to thicken)
Remove large pot from heat
Added shredded cheddar and smoked gruyere cheeses and stir in until well mixed and melted
Add cooked pasta to a large baking pan.
Drain liquid and add raw lobster to pasta (the raw meat bakes up perfectly in the oven)
Add contents of large pot to pasta
Mix the pasta, lobster and cheese/butter/flour mixture
Top with your favorite bread crumbs
Bake everything at 375 for 30 minutes
---
Cooking Demo with Ready Seafood
---
Hungry yet? Secure your share of Lobster Tails and Cold Cracked Lobster from Ready Seafood today and get cookin'!