Much like fine wine or decadent cheese, no two steaks taste the same. Yet only modern meat enthusiasts nuance the flavor and texture profiles of craft beef, enjoying the local and specialized range of flavors between farms and cuts.
Throwing a beef tasting is as easy as any other tasting (and you can still drive home safely afterward). It's remarkably easy to throw a beef tasting, especially with Crowd Cow beef tasting flights.
By keeping the cut consistent, you can see how other variables affect the overall taste and find the differences between farms.
We recommend tasting about three to five farms to enjoy the variations without tiring out your tastebuds! Be sure to include some method of marking the different farms (we like this chalk marking kit, originally for cheese tasting but totally applicable for beef tasting).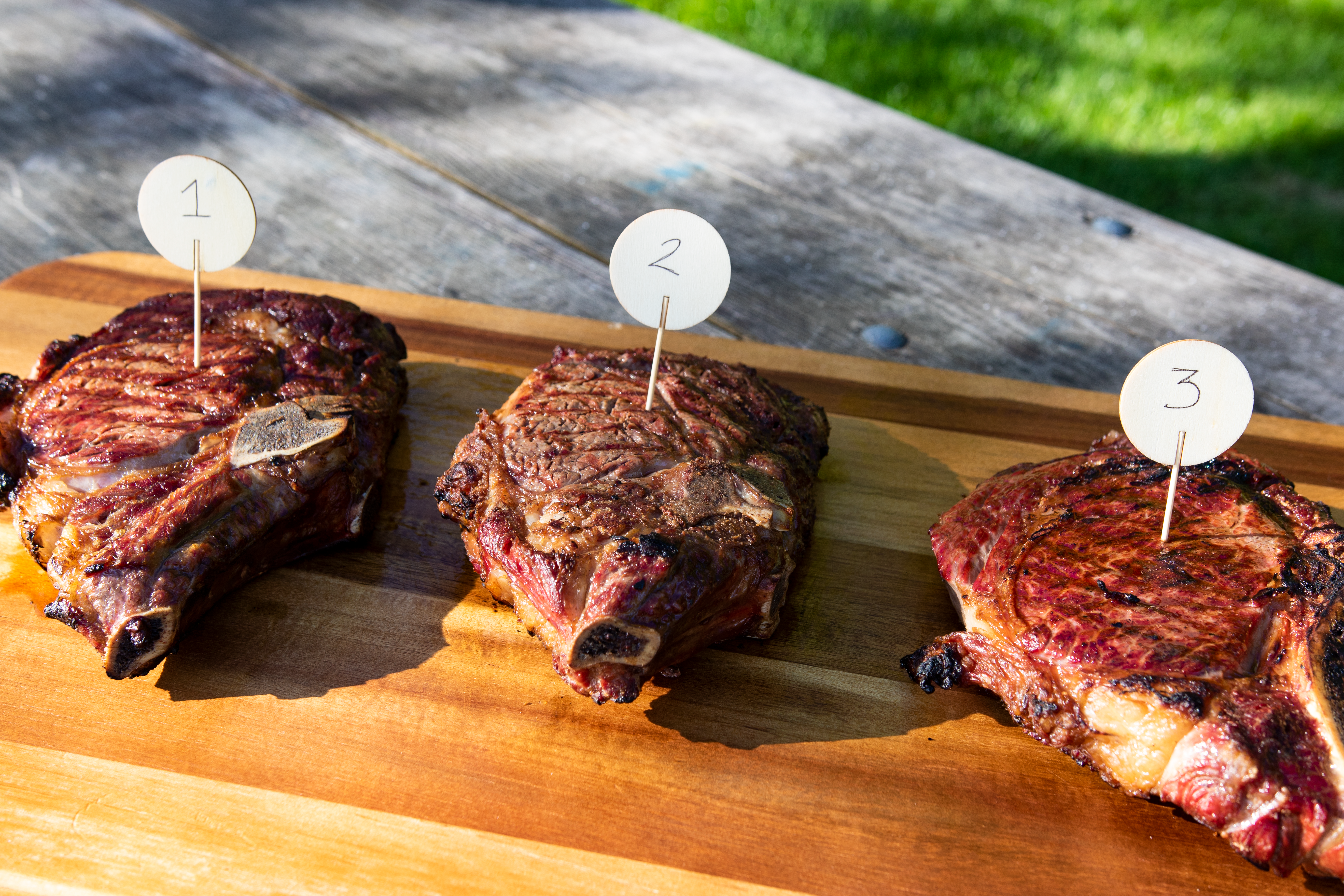 2. Decide how you want to prepare (and present) your prized cut!
Whether you grill, roast, or sear the steak will impact how the flavors come together so it's important to know how you're going to present the final product.
From cutting boards to salt blocks to paper plates, we've seen it all. Lay out your bounty, mark the farms (again, chalk markers!), and get ready for a mouthwatering event.
3. Invite a friend or two!
If you're preparing the meat yourself, you'll want a blind tester to corroborate the differences in taste. Provide paper (or our tasting guide) and a pen so guests can record their preferred piece.
4. Add some sides.
As with any tasting, you may want to offer additional nibbles to cleanse the palate and pair with your main course. While the best pairings will be tailored to each individual cut, feed, and finish, there are a few time-honored tasting goodies.
Crowd Cow co-founder Ethan is known to include green apples slices for cleansing the palate between bites. I, on the other hand, am happy to put gourmet salt in pinch bowls alongside roasted root veggies or a vegetable crudite.
5. Survey your fine platter and enjoy the mouthwatering flavors of craft beef from independent farms.
At the end of the day, there's nothing like enjoying a juicy slice of steak with a friend or two.
Use our tasting notes guide (or create your own) to keep track of the texture, flavor, mouthfeel, and overall opinion for each slice at the table. Be sure to share your tasting with us by emailing moo@crowdcow.com or posting on social media with #crowdcow #crowdcowtasting!