It is with great pleasure that we'd like to introduce Shinshu Wagyu, known as Shinshu Premium (信州プレミアム) in Japan, to our Crowd Cow customers. Shinshu Wagyu is subtly-sweet, smooth, and decadent – a perfect product of the environment it comes from. Cool weather and mountainous Japanese Alps are reflected in its exquisite marbling and texture. This small farm operation raises Tajima Wagyu using a proprietary finishing method incorporating Nagano apples, producing an exquisite Wagyu with subtle tasting notes of apple and melon.

Seeking to experience the ultra-rare, luxurious flavors and textures that Shinshu has to offer? We've put together an expertly curated selection of Nagano's finest – the Ultimate Shinshu Tasting Flight
Includes:
3x A5 Wagyu Striploin Steaks
2x A5 Wagyu Ribeye Steaks
1x A5 Wagyu Filet Mignon
Authentic Digital Nose Print
Digital Certificate of Authenticity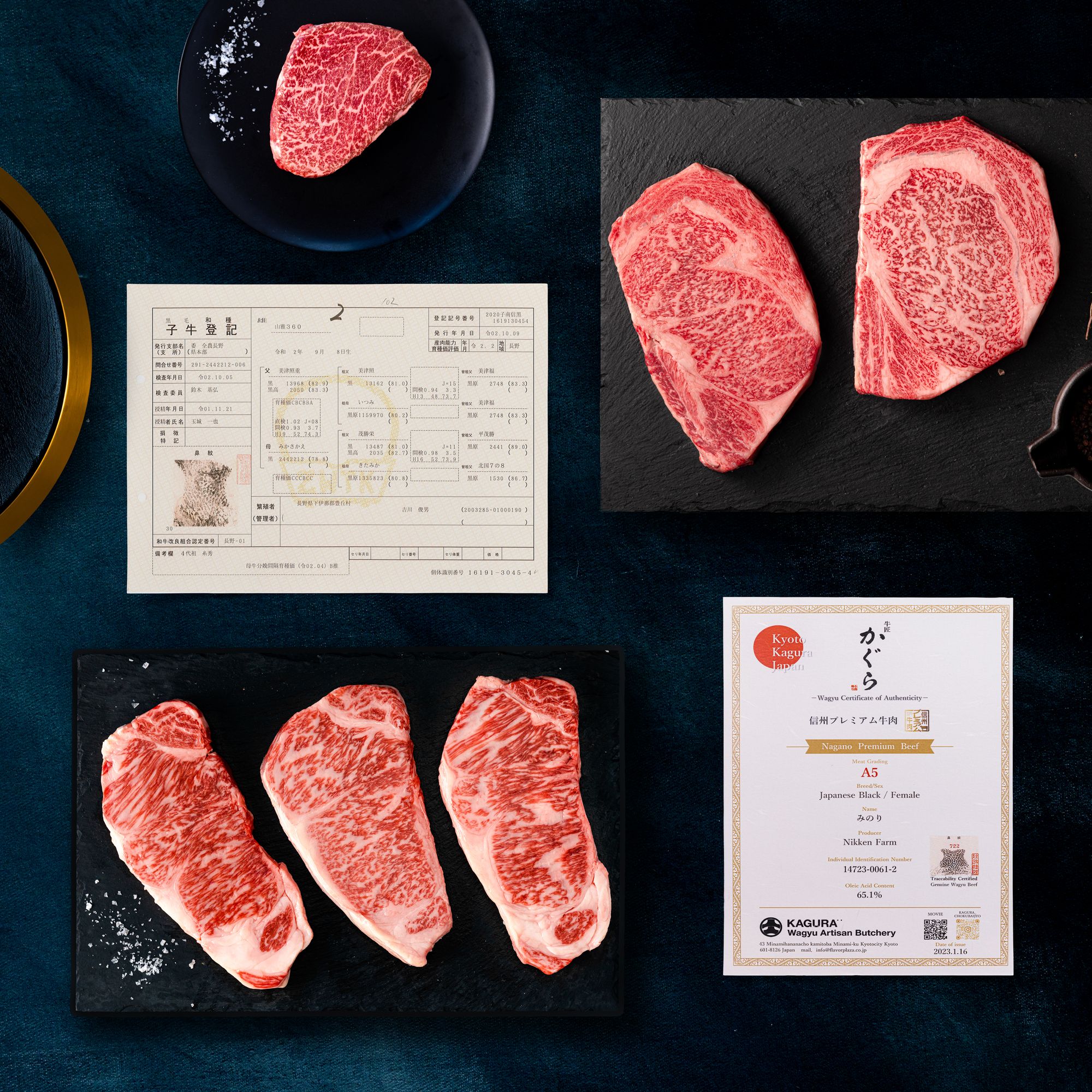 A5 Wagyu Striploin Steak
Shinshu's A5 Wagyu Striploin Steak has a tender, juicy texture that is consistently a crowd-pleaser. Not only is the flavor out-of-this-world, but all it takes is a quick two-minute sear on all sides.
Serving suggestions: To enhance the umami flavor, serve this Striploin with leafy greens and an assortment of fine sea salts. Don't forget a glass of Cabernet Sauvignon, Syrah or Pinot Noir too!
A5 Wagyu Ribeye Steak
The marbling on this Ribeye Steak is unmatched – its higher fat content makes for a richer flavor that you don't want to miss out on. Impeccable farming practices enhance this Shinshu Ribeye's delicate-sweet umami-punch.
Serving suggestions: When you're ready to experience this steak, we recommend doing so Japanese-style: sliced into ¾ inch pieces and served with sea salt and wasabi for dipping.
A5 Wagyu Filet Mignon

Filet Mignon is often regarded as the most tender cut out there, with less fat and a lean, beefy flavor. The Shinshu A5 Wagyu Filet Mignon is simply indulgent – the tenderness of the cut is complemented by its sweetness and smooth texture.
Serving suggestions: Forget the oil! A5 Wagyu's high fat content means you can cook this cut right on a naked pan. Cook the whole piece over high heat, or slice into bite-sized, 1½ to 2-inches thick medallions to impress.

While Shinshu Wagyu has been a well-guarded secret in Japan for years, we're excited to share this delightful beef with you. Along with six stunning cuts of Shinshu Wagyu, the Ultimate Shinshu Tasting Flight includes an exclusive Authentic Digital Nose Print of the cattle your beef originates from, as well as a Digital Certificate of Authenticity. Quantities of this luxurious wagyu will be extremely limited, and they're sure to go fast – reserve your Ultimate Shinshu Tasting Flight today!