Bacon is universally loved. It's the perfect combination of crispiness and chew, a literal wave of savory, salty goodness that makes it completely irresistible.
While it's usually associated with pork, BBQ aficionados are raving about the beef version — cured and smoked beef belly (navel). Another variety of beef bacon uses the brisket (what the navel connects to). Since brisket is leaner than the belly, it's essential to have lots of marbling if using this cut to make bacon. A Choice brisket just won't cut it. After all, the key component to bacon is the fat — it contributes to flavor and moisture, plus helps it crisp up when cooking.
If you want to elevate your Beef Bacon experience to the next level, Japanese A5 Wagyu is your meat of choice, with outstanding marbling that renders into ribbons of melt-in-your-mouth flavor.
Shop: A5 Wagyu Trimmed Brisket Flat
If you think regular bacon is good, you are going to love this. There's truly nothing like it.
Here's what you'll need:
3 tablespoons kosher salt
1/3 cup white sugar
3 tablespoons pepper
1 tablespoon paprika
1 teaspoon prague powder #1
PREP
Add salt, sugar, pepper, paprika and prague powder #1 (pink curing salt) to a bowl and stir to mix evenly. ***Be very careful not to exceed the recommended amount of prague powder (1 tsp to every 4-5 pounds of meat). Too much or too little pink curing salt can adversely affect health, taste, and food quality.
Coat the trimmed brisket flat on all sides with the curing mixture, making sure it is evenly applied to all areas of the brisket. Once applied, put the coated brisket in a sealed bag to cure. Dump any of the curing mixture that was leftover into the bag and seal.
TIP #1: Since this is a larger cut, we ended up using a FoodSaver bag so that we didn't have to fold over the meat. If using a FoodSaver, don't fully vacuum seal the bag — you'll need to move the meat/liquids around in the bag in the next step!
CURE
Put the bagged and coated brisket in the fridge to cure for 4-5 days. Turn the brisket once per day and massage the meat with the liquid that has been drawn out.
After 4-5 days, remove the brisket from the fridge and rinse it off with cold water in your sink. Pat the brisket dry with paper towels.
TIP #2: Return the brisket to the fridge, uncovered, to further dry out overnight. The circulating cool air helps remove some of the excess moisture.
SMOKE
Prepare a smoker at roughly 215 to 220°F. Place the brisket on the smoker and allow it to smoke to an internal temperature of 150°F. For us, this was roughly two hours.
TIP #3: We recommend using hickory wood chips for the smoke — apple wood is also a great choice!

SLICE
Allow the bacon to cool and then slice thinly, targeting no thicker than 1/4". This should be thinner than your standard pork bacon!
TIP #4:  We found thinner slices worked best when cooking. To get a really thin slice, it can be helpful to place the bacon in the fridge or freezer to cool and get firm.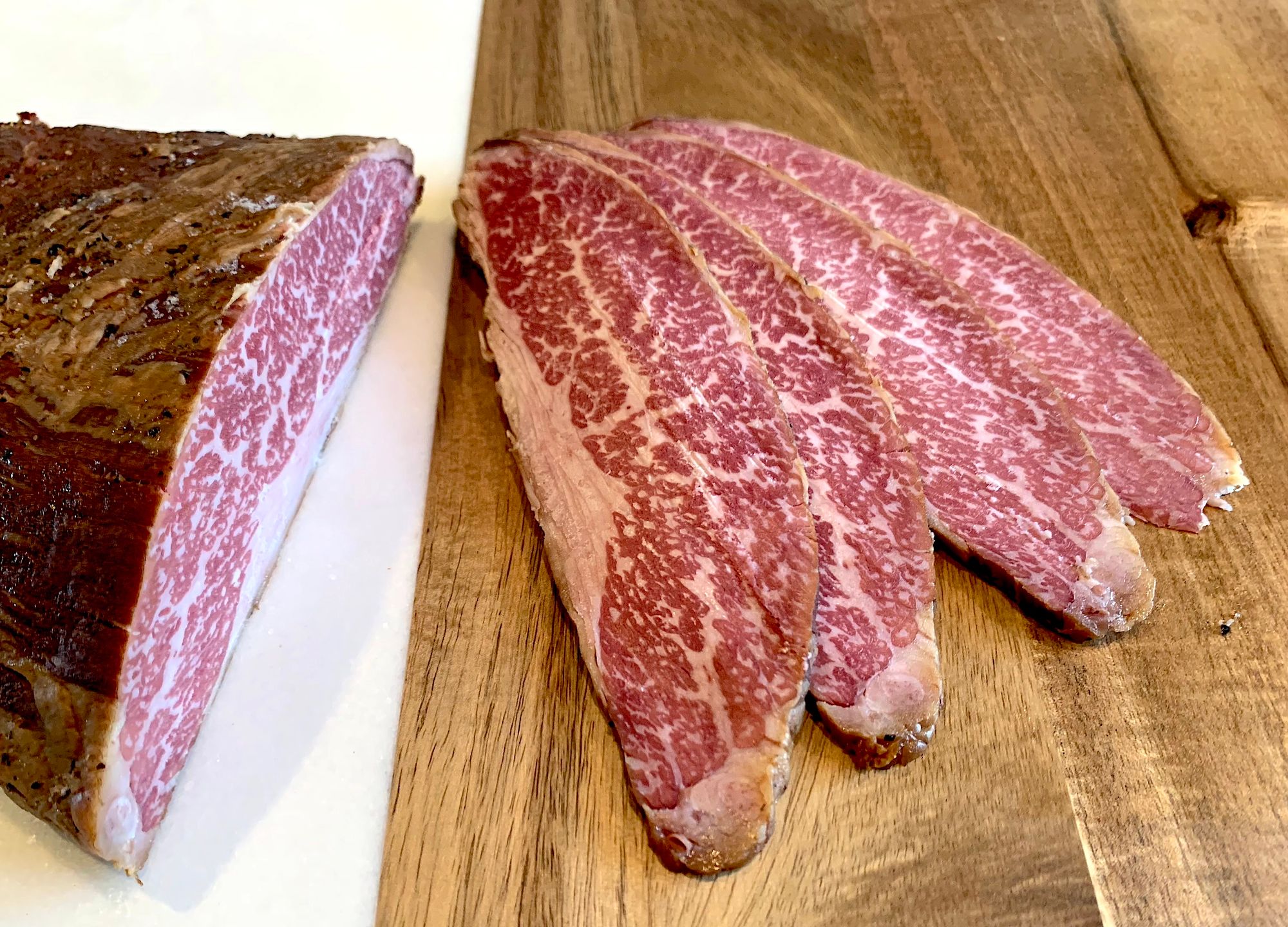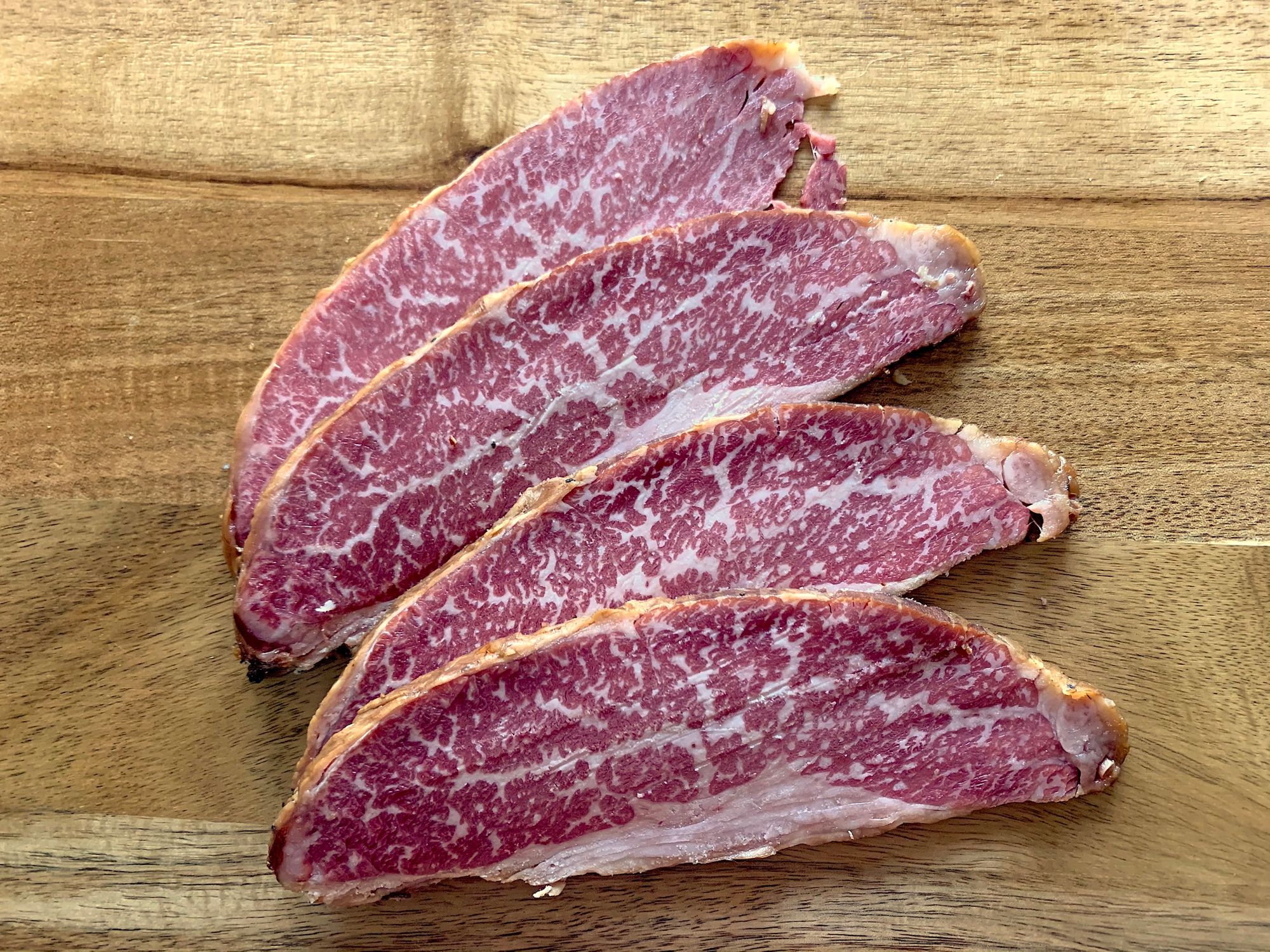 After slicing, your Wagyu bacon will last in the fridge for up to two weeks. You can also slice and freeze it for later!
FRY
Cook as you would normal pork bacon.
TIP #5: Save the leftover fat for frying potatoes or veggies — you can store it in the fridge for several months in a sealed container.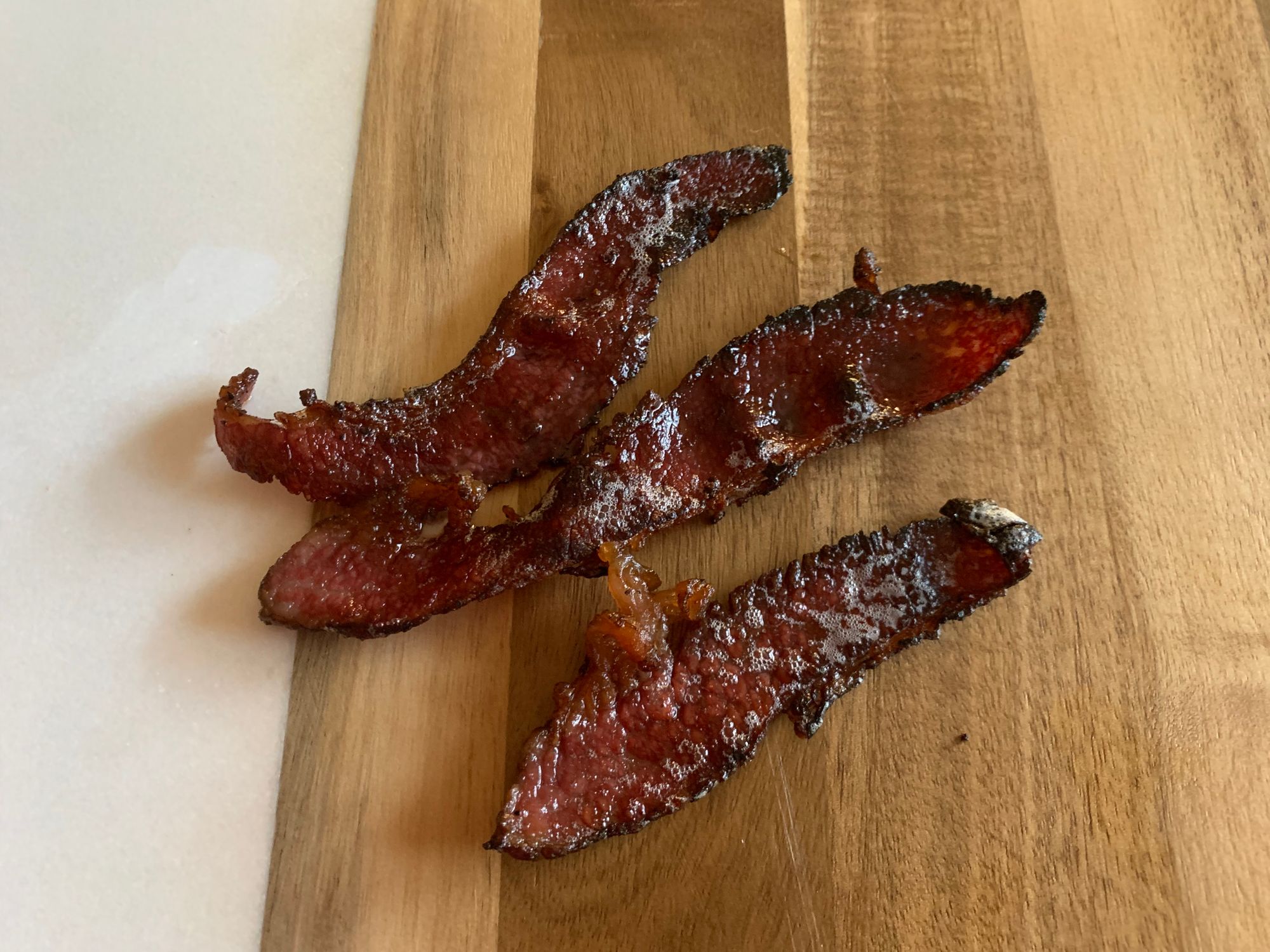 Enjoy!
---
For more recipe inspiration, join our Steak Holder Facebook group or check out our Cooking Resources page for lots of how-to videos on preparing your favorite cuts!