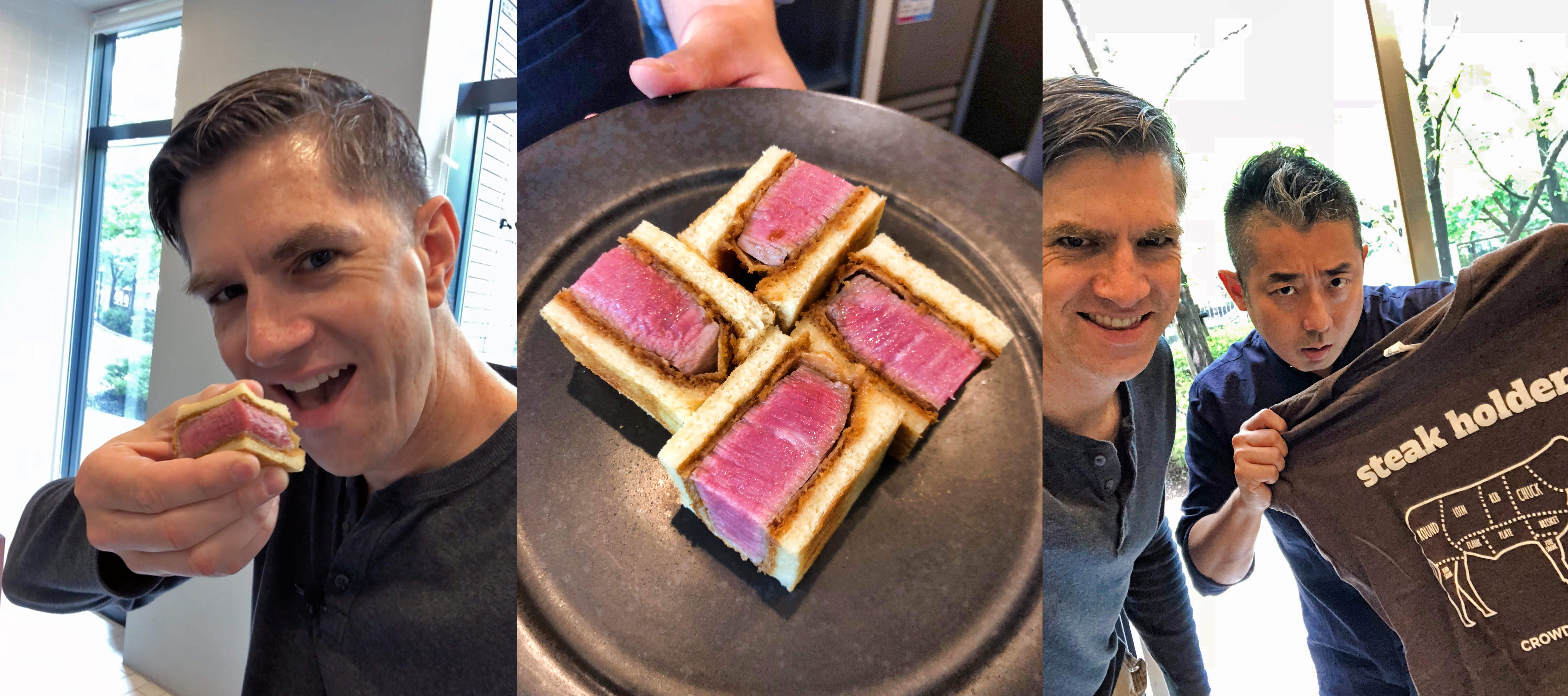 Wagyumafia's chateaubriand A5 Kobe Beef Wagyu Katsu Sando
I just got back from a trip to Japan where I met with some of the best beef producers in three regions I heard about on my last visit. We love Japanese Wagyu and we know you do too, which is why I was excited to meet award-winning producers from regions that are well-known in Japan but haven't yet been made available to people in the USA.
I was also eager to explore Japanese culinary approaches to Wagyu like Wagyu Sushi with Uni (sea urchin), an Instagram sensation among Tokyo's trendiest restaurants, and to dive into well-known beef dishes in the regions where they first became popular, including Sukiyaki from Gunma Prefecture and Gyu-Tan (grilled tongue) in Sendai. I even spent some time with Wagyu Mafia to hear how he got his start in the Kobe Beef world and to try the most decadent of comfort foods -- his original A5 Kobe Beef Chateaubriand "Katsu Sando".
While I was in Japan, I learned more about Japan's obsession with healthy fats and what it takes to become a beef rater, as well as meeting with award-winning Wagyu farmers.
In addition to Tokyo, we visited three different regions to see farms, Wagyu beef auctions, and carcass ratings. In case you didn't see our Journey to Wagyu on social media or the Instagram stories we posted that week, this post will fill you in!
Arriving in Tokyo
I landed in the early afternoon and knew I'd need caffeine to beat jetlag and make my 9:30pm dinner reservation, so I immediately headed to Shibuya where the sights and sounds of Tokyo's bustling, neon-lit crowds would surely distract me from sleep. And it's the home of Chatei Hatou, a 30-year-old kissaten beloved by hard-core "third wave coffee" baristas worldwide. It was, quite frankly, some of the best coffee of my life.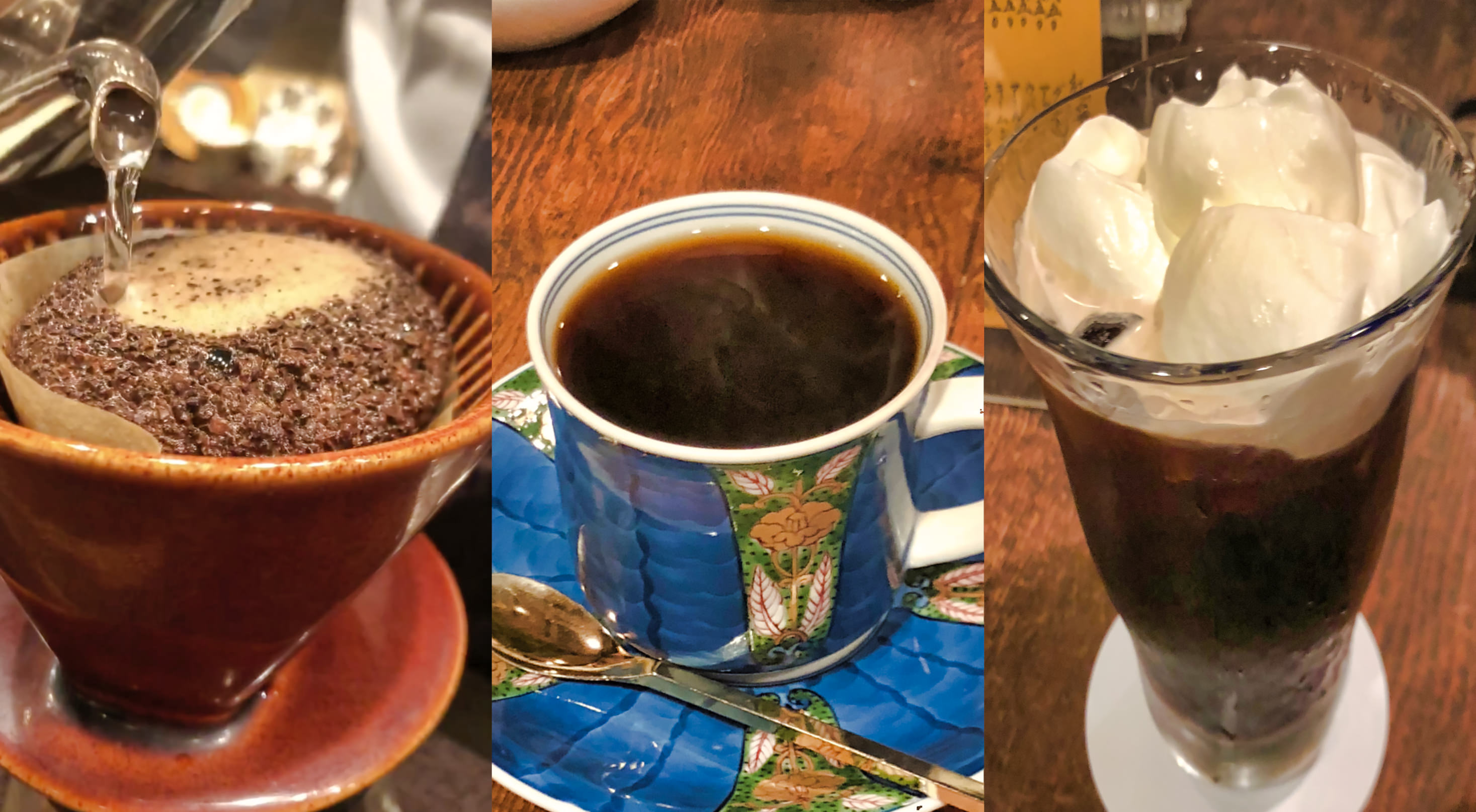 Craft Coffee at Chatei Hatou in Shibuya
Chatei Hatou: coffee so strong and yet smooth, you'll remember it for a long time afterwards, and you'll come to think of the $8 USD price as a bargain!
Dinner that night was at Ushigoro Ginza, a high-end Yakiniku grill known for using only the highest ranked A5 Wagyu. They were also the first restaurant in Ginza to obtain a license to prepare and serve Wagyu sushi (raw beef)! I was eager to taste their beef tongue tartare with salted dried konbu (kelp) and try the Wagyu sushi with Uni (sea urchin).
Sometimes, when you combine two luxurious items, you can get a result that is best described as "1 + 1 = 3". A5 Wagyu together with fresh Uni (sea urchin) is absolutely one of these combinations, and as a result, it has become an emerging food trend (at least in Tokyo and on Instagram.) Whether raw, or tataki style (seared briefly and then sliced), there is an explanation-defying magic in putting these two ingredients together. If you like even one of these ingredients, then trust me: you'll love them even more together.

Ushigoro in Ginza, Tokyo: A5-only Yakiniku
Sushi for Breakfast
Lacking any reasonable beef option between 5am and 10am, I opted for the short Sunday morning walk to Tsukiji Fish Market - closed on Sundays and with limited options. Sushi Zanmai operates 24 x 7 x 365 and has better sushi than anything I can find in Seattle -- for a reasonable price too!

Sushi Zanmai in Tsukiji Fish Market
In the afternoon, before heading towards Gunma Prefecture for the first of many farm and beef auction visits, I made my way to Matsunami Steakhouse for a steak lunch in the classic Teppanyaki style delivered in the quintessential Japanese steakhouse style: a chilled salad with miso dressing, a perfectly seared, salt & peppered Wagyu steak served with crispy garlic chips and sauteed bean sprouts, American jazz music playing in the background while nostalgic decor has been seemingly frozen in time. No tourists in sight.
They prefer serving A4 Wagyu at lunch because it's a more filling meal. While A4 is still a high enough grade to qualify as Kobe Beef (when it's from Hyogo Prefecture, etc) it's less rich and, well, overwhelming -- and thus a better lunch steak.

Matsunami Steakhouse in Asakusa, Tokyo
Next was Takasaki, Gunma. The next few days were full of great beef, interesting farms, and travel to three new regions -- Jyoushu Gyu in the Gunma Prefecture, Sendai Gyu in the Miyagi Prefecture, and Hida Gyu in the Gifu Prefecture.
Gunma Prefecture, home of Jyoshu-Gyu "clean beef"
Gunma is a small, landlocked prefecture well-known for hot springs, mountains, alpine meadows, and orchards that are home to some of the best vegetables in Japan. And it's located just an hour's journey from Tokyo!
The Gunma Prefecture is also known as the birthplace of "sukiyaki," a Japanese hotpot dish. Sukiyaki combines thinly sliced meat and fresh vegetables and is served in what is called "nabemono" style. Not only is the Gunma Prefecture the birthplace of sukiyaki, but it is also the only place in Japan where all the ingredients served in sukiyaki can be sourced locally.
The best beef in this area goes by the name "Joshu Wagyu." Its highly regarded taste stems from the clean water which filters down from higher elevations over many years, obsorbing minerals along the way to produce some of the richest and most fertile land and vegetables in Japan. Raised on such water and vegetables, the Wagyu here has a remarkable flavor and clean meat that's known for being "the wagyu you won't get tired of."
Of the region's many Wagyu producers, we visited perhaps its most elite: Kato Farm. Kato grows his own feed for the cattle and has won over 100 awards for their beef, including "farm of the year" on a national basis.

Kato and me standing in front of some of his many awards of excellence for Wagyu beef
I also visited Japan's premier school of butchery and attended a Gunma beef auction where I learned what it takes to be a beef inspector in Japan (a minimum of 3 years of apprenticeship) and spoke to farmers and buyers who were present at the inspection.

Joshu Wagyu isn't yet available in America, but that is something Crowd Cow hopes to change. Stay tuned!
Miyagi Prefecture's Sendai-Gyu: the highest standards in Japan
After Gunma, I headed to Miyagi Prefecture, where the most well-regarded beef is raised with the strictest standards in the entire country and goes by the name "Sendai-gyu". Only A5 and B5 rated beef qualifies as Sendai-Gyu. The Sendai area is also known for some of the best rice in Japan and was the center of rice production during the Edo period. In short, rice is important in this area, they produce some of the best rice, and Sendai-Gyu beef is raised on that rice!
We visited some of the best producers in the Sendai Region, attended a cattle auction, went to a local meat market, and ate some incredible cuisine along the way -- including Sukiyaki at the Kato, a butcher and restaurant with roots dating back to before World War II!

Sendai-gyu has some of the most stringent quality requirements in Japan

Ready for the Sendai-gyu wagyu auction (inspector's light in hand)

Meeting one of the oldest butchers and sukiyaki restaurants in Japan
Hida-Gyu: snowflake marbling "beyond A5"
Even when Wagyu has developed enough marbling and fine-grained fat to qualify as A5, there is another level of marbling not covered by the official rating system -- and Hida-Gyu, produced in Gifu Prefecture, is where to find it. In Japan's beef circles, the marbling of Hida-gyu is compared to freshly-fallen snow on a calm winter's day. Poetic, for sure, but the result is a softer, more luxious beef than you can find anywhere else. Hida-Gyu earned the highest scores at the Wagyu Olympics in 2002 and 2007, and has been a consistent and regular winner at the regional level.
That's no accident. Hida-Gyu begin their lives grazing on high altitude grassy pastures and are direct descendents of the famed "Yasufuku" bull, brought to Gifu from Hyogo Prefecture (where Kobe Beef is from) and farmers in the area receive support from the Gifu Prefectural Livestock Research Institute (岐阜県畜産研究所) with one goal: to produce the very best Wagyu beef in Japan.
The results are striking. Hida-Gyu as a whole produces substantially higher numbers of cattle that grade A5, the highest carcass rating of the Japan Meat Grading Association, as compared to the national average in Japan. Although extremely difficult to access, Hida-Gyu has gained a following in Japan and in parts of Europe due to it's high quality and taste.

Hida-gyu cattle grazing in Gifu Prefecture

Narrating the Gifu Prefecture cattle auction for Instagram live!

Hida-gyu cattle grazing in Gifu Prefecture, Japan (Crowd Cow)
Exploring Wagyu in Tokyo
Back in Tokyo for a few days, I hadn't had enough of the culinary side of Wagyu. Highlights include a stop at Wadatsumi, a restaurant located in an historic former geisha house in Shibuya where the chef demonstrated a tataki preparation of Hida-Gyu A5 Wagyu by searing a whole block of it directly on a grill and then thinly slicing it. He then layered that on a corn custard, topped with fresh Uni (sea urchin) and small green onions, to create a rich, savory masterpiece that was completely "off menu."
I love that this restaurant is within walking distance of Shibuya Crossing, the busiest intersection in Japan, and yet situated in a stately old house with a courtyard. They have several areas within the house, with different atmospheres and different cuisine (like a sushi counter). It's a traditional style house with an Edo-period feel and it was formerly used as a Geisha house.
Wadatsumi Restaurant focuses on taking fresh seasonal ingredients and designing the food around that instead of settling on a menu and finding the ingredients to enable it. This is a place where you'll find 9 to 11 source kaiseki meals comprised of local seasonal ingredients. In other words, you're not going to be able to eat this food outside of Japan!

Slicing through a block of Hida-gyu A5 Wagyu

Wadatsumi's off-menu Hida-gyu A5 Wagyu + Uni custard
Another memorable meal was at Kakunoshin, a Yakiniku grill in Roppongi that always sources the whole animal, dry aging its beef on their premises for 60 days, and serves only beef from Iwate Prefecture. Here I was able to try cuts that I've never seen offered before in Japan. Dry-aging is rare in Japan, and the effect of aging Japanese Wagyu for so long gives it a deep, almost cheese-like aroma. Kakunoshin's atmosphere and service were not special but the beef was fantastic.

60-day dry-aged nose-to-tail A5 Iwate beef at Kakunoshin in Roppongi, Tokyo, Japan
The Wagyu + Uni phenomenon
Over the last 3 or 4 years, the combination of Wagyu (often raw) and fresh Uni has become a "thing" in some of Tokyo's trendier restaurants and less ardently traditional sushi joints. The color combination (orange uni with red wagyu) and the unlikely nature of the combination certainly attracts attention, but the real reason is that these two luxurious ingredients, when combined, truly create a flavor experience that is distinctly better than either of those ingredients alone. It is a "1 + 1 = 3" foodie sensation.
It's hard to say where this combination first emerged, but KOSO (a Wagyu sushi specialty restaurant in Ginza) is certainly one of the first, featuring this combination on their menu for at least 5 years.
Add caviar and gold leaf, then put everything on top of sushi rice and you have an incredible meal you can't find anywhere else in the world -- the "King's Wagyu Sushi Bowl" or "Oo no Gyu Sashi Don", 王の牛刺し丼 in Japanese.

The Oo no Gyu Sashi Don (王の牛刺し丼) at KOSO in Ginza, Tokyo, Japan
Though you can find this combination on the menu at a few high end A5 Wagyu specialty restaurants in Tokyo, you'll often find it's an off-menu item or something that requires an advanced reservation (except at KOSO, who has been serving it up for 5 years.) At the Uni specialty store in Tsukiji Fish Market, the attendant on duty had never heard of pairing Uni with Wagyu and, outside of Tokyo, I couldn't find anyone (either Wagyu farmers or Wagyu restaurants) that was aware of this dish.
Wagyumafia's "Ultimate Comfort Food"
Known as the most tender cut of beef, the tenderloin is one of the most prized cuts of any steer. And given that a 1200-lb animal will yield only 5 to 8 pounds of tenderloin in total, it's very rare.
The thickest cut of the tenderloin is called the chateaubriand, with only 1 to 3 pounds in an entire animal. Certain A5 rated Kobe Beef chateaubriand steaks have been known to command over $2000 at certain restaurants in Tokyo. Not a typo.
Q: What happens when you take 100 grams of A5 Kobe Beef chateaubriand, bread it, deep fry it tonkatsu style, and place it on toasted bread lightly seasoned with a special house-made tonkatsu sauce, crusts cut off (of course)?
A: Time to enjoy a $200 sandwich.
Though this "Wagyu Katsu Sando" comfort-food-meets-luxury-beef has been an Instagram distraction for over 4 years, Wagyumafia The Cutlet Sandwich (和牛専門カツサンド) takes it to new heights. By creating a restaurant focused on the concept and elevating the quality to include center-cut chateaubriand A5 Kobe Beef, Wagyumafia somehow manages to pull it off as a complete homage to the beef itself. This sandwich is the real deal. Given how rare chateaubriand A5 Kobe Beef is, it's strangely fitting, almost perfect in a poetic sense, that it's enjoyed as a comfort food.
After such an incredible diverse and deep dive into Japan's beef world, this ultimate comfort food was the perfect last bite. I look forward to trying a variation of this dish back home!

With the Director and staff of Gifu Prefectural Livestock Research Institute
Instagram:
@crowdcow
@wagyumafia
@jheitzeb