Year after year, one of the top resolutions is to "eat healthier and diet." Cue groans.
Healthy eating feels limiting. We think of chicken, brown rice and broccoli, every day — no variety and certainly no flavor. Plus, restricting your food makes it hard to actually stick with any kind of plan. So how do you reach your goals effectively?
Crowd Cow is here to help.
Whether you're strictly following Keto or Paleo plans, or are trying out Whole 30 or the Mediterranean diet for the first time, we're here to fit into your lifestyle — not change it. You pick what's right for you, and Crowd Cow will help keep you on track. We've got your favorite cuts, favorite proteins, and even subscriptions that cater directly to your lifestyle and taste. Achieve your resolutions with convenient deliveries of meat you know was raised right — from meal prep to a new diet, we've got your back.
Keto Diet
The ketogenic diet, or short for keto, is a low-carb, high-fat and moderate-protein diet. This diet derives 70 percent of calories from fats, 20 percent from protein, and only 10 percent from carbs. Because your carb intake is extremely limited, it forces the body to burn fats for fuels (rather than carbs, the typical energy source for your body). This means you're eating lots of meat, eggs, cheeses, fish, nuts, butter, oils, seeds and fibrous vegetables, and relatively few fruits, grains, and sugar.
For a keto-friendly breakfast, try a Hanger Steak (grilled with just salt and pepper), two eggs, and a cup of coffee with Bulletproof MCT oil.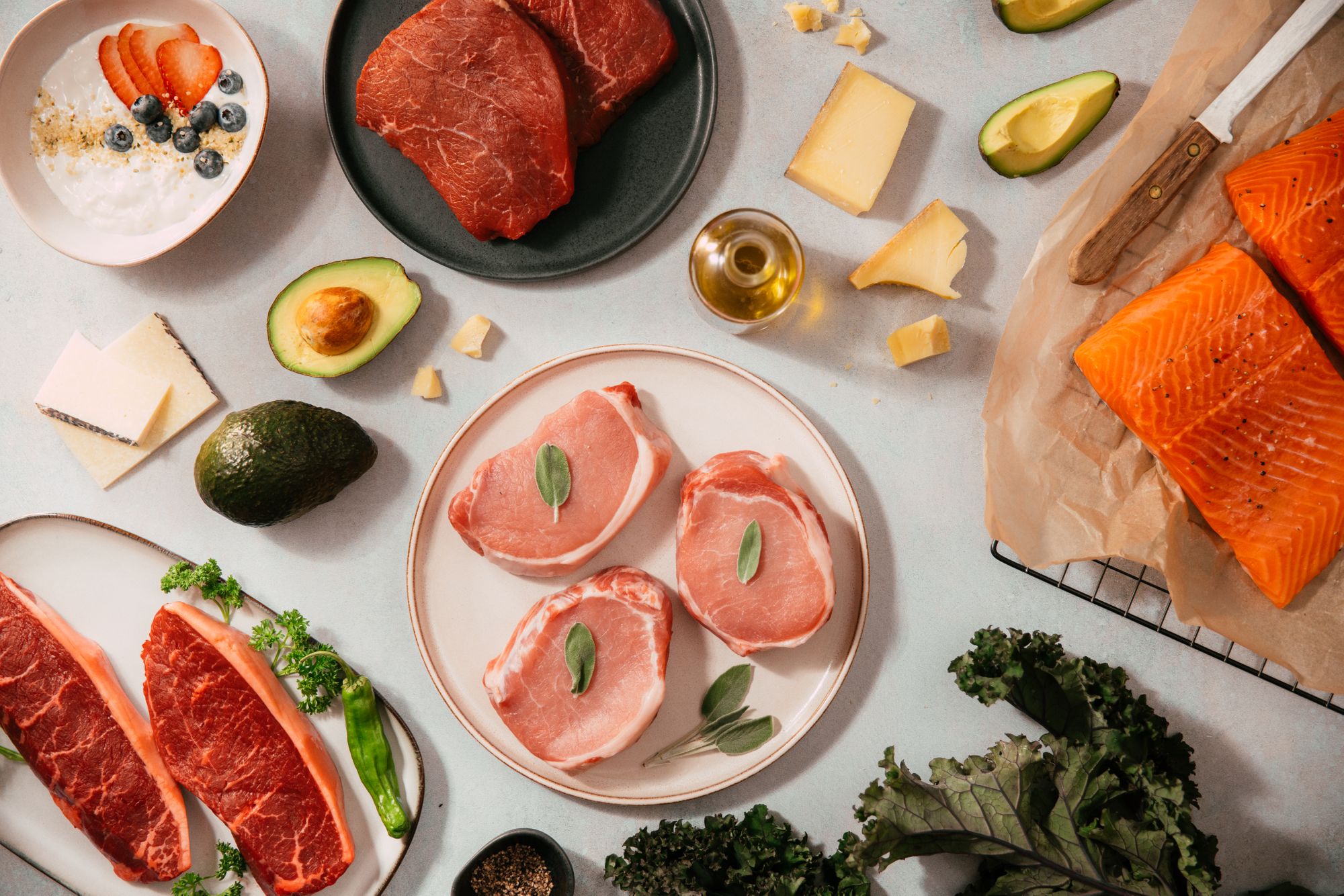 To help you stay on track, a keto-friendly subscription box (like the Steak Lover's Subscription) is a great option to help with meal planning and keep you eating the best meat week after week — no hormones, no added preservatives, or any extra ingredients that aren't keto-approved. The Japanese Wagyu subscription also fits perfectly with this diet and helps you reach the ideal fat ratio with its high level of omega-3s.
Paleo Diet
The paleo diet is a dietary plan based on food that would've been eaten during the Paleolithic era 2.5 million to 10,000 years ago. Also known as the caveman diet, this plan focuses on lean meats, fish, fruits, vegetables, nuts and seeds — foods that could've been obtained by hunting and gathering. You won't have many grains, dairy, refined sugar, salt, potatoes, or highly processed foods in general with this diet.
For lunch, try making a chicken and coconut lime cauliflower rice bowl!
For a convenient paleo-approved lunch or dinner, consider stocking up on 100% paleo sausages from Pasturebird.  These sausages thaw in no time and are made free of sugar, preservatives or fillers (and were inspired by Pasturebird farmer, Paul Greive, a Crossfitter and strict paleo diet follower).
Whole30
Whole 30 is an elimination-style meal plan designed to remove all the potentially inflammatory foods and beverages in your diet (like added sugar and sweeteners, alcohol, grains, legumes, dairy, processed foods and beverages, and junk foods). You only eat "clean" and unprocessed foods such as meats, seafood, vegetables, fruits, natural fats, and eggs. At the end of 30 days, you slowly introduce foods back into your diet to find out what affects your body in negative ways.
For dinner inspiration, check out this Flank Steak recipe — delicious and Whole30 approved!
For meal-planning simplicity and convenience, try out a custom subscription box and pick your favorite proteins, ensuring you get exactly what you want, on your schedule.
The Mediterranean Diet
The Mediterranean diet is a meal plan based on the traditional cuisine of countries bordering the Mediterranean Sea, and is typically high in vegetables, fruits, whole grains, beans, nut and seeds, and olive oil. Protein consists of fish, poultry, beans and eggs with a limited intake of red meat.
This zesty Citrus Salmon recipe fits well with this diet and pairs perfectly with arugula, dressed lightly with a fresh squeeze of lemon and a drizzle olive oil.
Crowd Cow has lots of seafood options to choose from — including Salmon, Arctic Char, and Black Cod — as well as lean proteins like truly pasture-raised chicken to make cooking on the Mediterranean diet a breeze.
---
Wherever you are in your health journey, and whatever lifestyle you choose, we're here to help you along the way. We make it easy to put the highest quality meat on your table to help you reach your goals and make 2020 your best (and most delicious) year yet!