With summer quickly approaching, our time outside starts to increase just like the temperatures. When I'm on the trail, I love a great trail mix. I'm a sucker for sweet-n-salty mixes, but when I need a lightweight protein punch, I always grab a bag of beef jerky to carry with me.
I recently started exploring making beef jerky at home when we got a new stove with a dehydrate feature. If you don't have this feature, you can set your oven to low (instructions below) or you can buy a dehydrator – this Snackmaster Pro Food Dehydrator makes it incredibly easy.
Making beef jerky at home requires only a couple of ingredients and a few days' patience. Start with a lean pasture-raised cut like a top round roast, shoulder roast, or even a flank steak and trim off any visible fat – fat makes jerky spoil faster. I prefer the meat to be at the beginning stages of thawing when I start to trim and slice, as it makes it a bit easier to handle.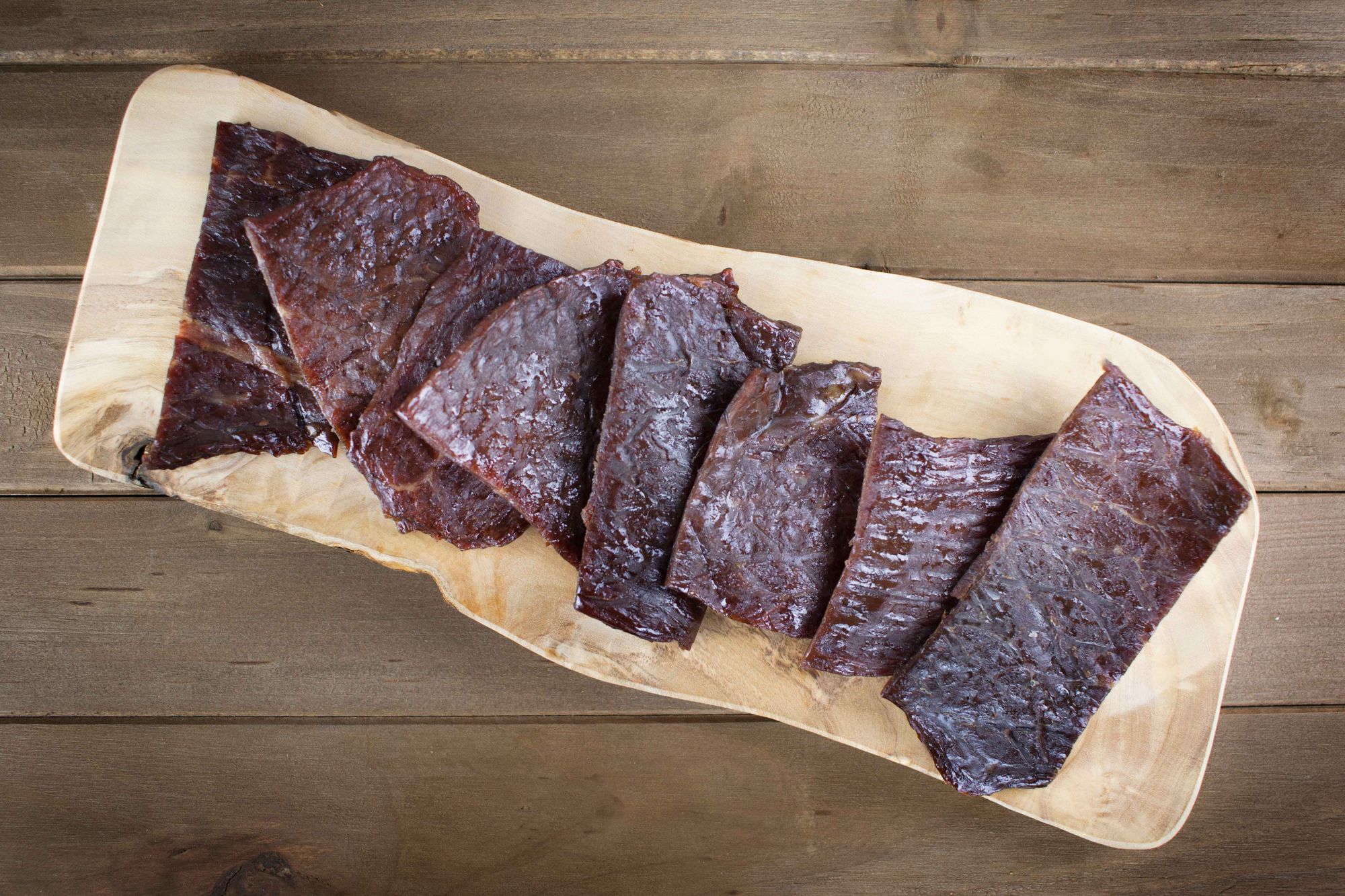 Once the fat is trimmed, begin to cut your strips. This is where you can experiment with your own preference on cutting with the grain or against the grain. Cutting with the grain will give you chewy, tougher jerky while cutting against the grain will give you less chewy, more tender jerky. The thickness will determine the cooking time later on.
Now is the fun part – building your flavor profile! Start the marinade base with Worcestershire and soy sauces. For standard beef jerky, use a mix of liquid smoke, brown sugar or honey, salt, pepper, onion and garlic powders.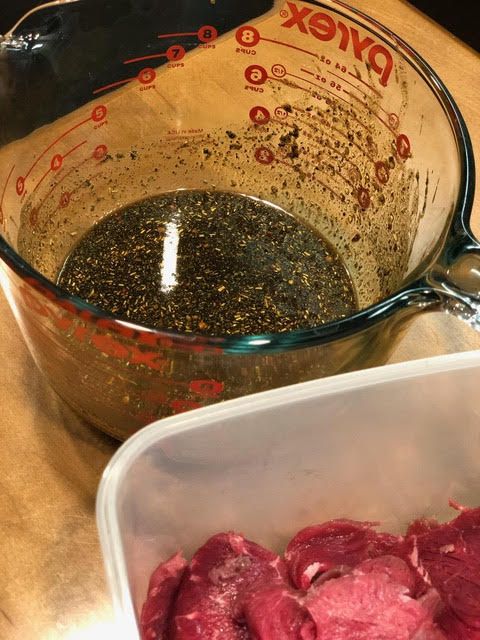 Once you have your marinade ready to go, pour over the slices in a sealed container or plastic storage bag. Make sure it covers across all of the slices and once closed, give it a good shake to cover all of the meat. I marinade mine for about 48 hours while shaking once each morning and evening.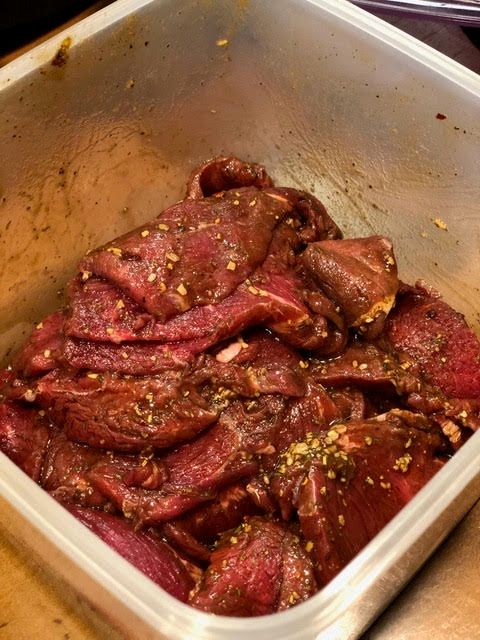 On cooking day, I pull out the container and let sit for about 30 minutes on the counter. To help the dehydrating process, I place the marinated meat on a cookie sheet covered in paper towels and pat it dry to help draw out the excess marinade. Next, I use my wife's cookie cooling racks and lay the meat across or drape through the racks. If you don't have the cooling racks, you can pierce the strips with a toothpick or kabob skewers and hang between the oven racks.
BUT WAIT! How can you do this in my oven if mine doesn't have a dehydrate feature?
Set your oven as low as it will go and prop open the door with a wooden spoon as this will help some of the heat escape. You'll want to watch the time and condition of the meat closely as you don't want it to be over dehydrated. At 150 degrees, I usually taste test around 2 hours and then every 30 min once I hit the 4-hour mark. I know it's done when the jerky bends but doesn't crack and the muscle fibers are white.
When it's ready, I'll let it sit out for about 15 minutes – It doesn't need much time to cool at such a low temp. I'll package into storage bags and keep in the refrigerator as there is always a little bit of fat left on the strips, so keeping it refrigerated is a good idea.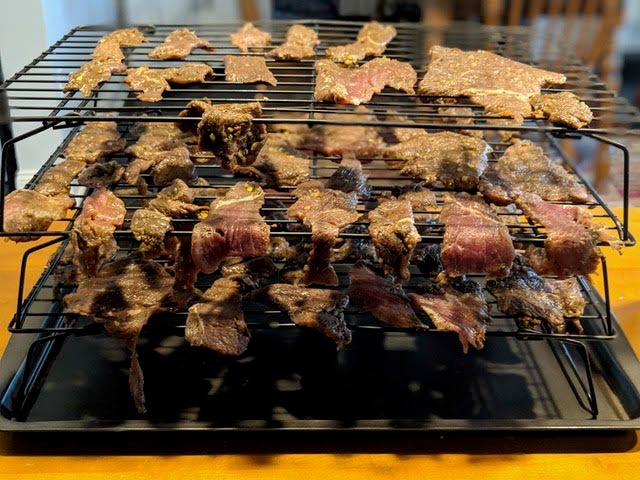 Ready to switch it up?
Try using a Brazilian steakhouse blend or other packaged dry marinade. Most of these will tell you to add olive oil and water. I don't include these, but I do use the red wine vinegar from the Brazilian steakhouse marinade. Keep in mind that most of these marinades will have a lot of sodium, so I typically will cut down on the soy sauce or use a less sodium version to start and add more later if needed.
A great option is to check out the rubs and blends from Spiceology – these freshly ground spices will add a great kick to any jerky.
My "Get Started" Jerky Recipe for a 2-Pound Cut
Jerky typically loses about half of its pre-dehydrated weight.
2/3 cup Worcestershire sauce
2/3 cup soy sauce
1 tablespoon honey
2 teaspoons freshly ground black pepper
2 teaspoons onion powder
1 teaspoon liquid smoke
1 teaspoon red pepper flakes
I hope you give it a try. It's pretty simple and the results will be well worth the effort, especially when you start with quality beef.
For more Beef Jerky inspiration, our co-founder Joe has a great recipe + how-to here >>