If you're new to the Wagyu game, start with the Ultimate Guide to Wagyu or have a look at our Japanese Wagyu Infographic.
But if you're becoming a connoisseur and experiencing its melts-in-your-mouth splendor on a regular basis and are looking to level up your game, read on. In this post, I'll explain how to share A5 Wagyu with larger groups of people, including how to save a bit of money when purchasing it, how to prepare it and how to cook for a larger group of people.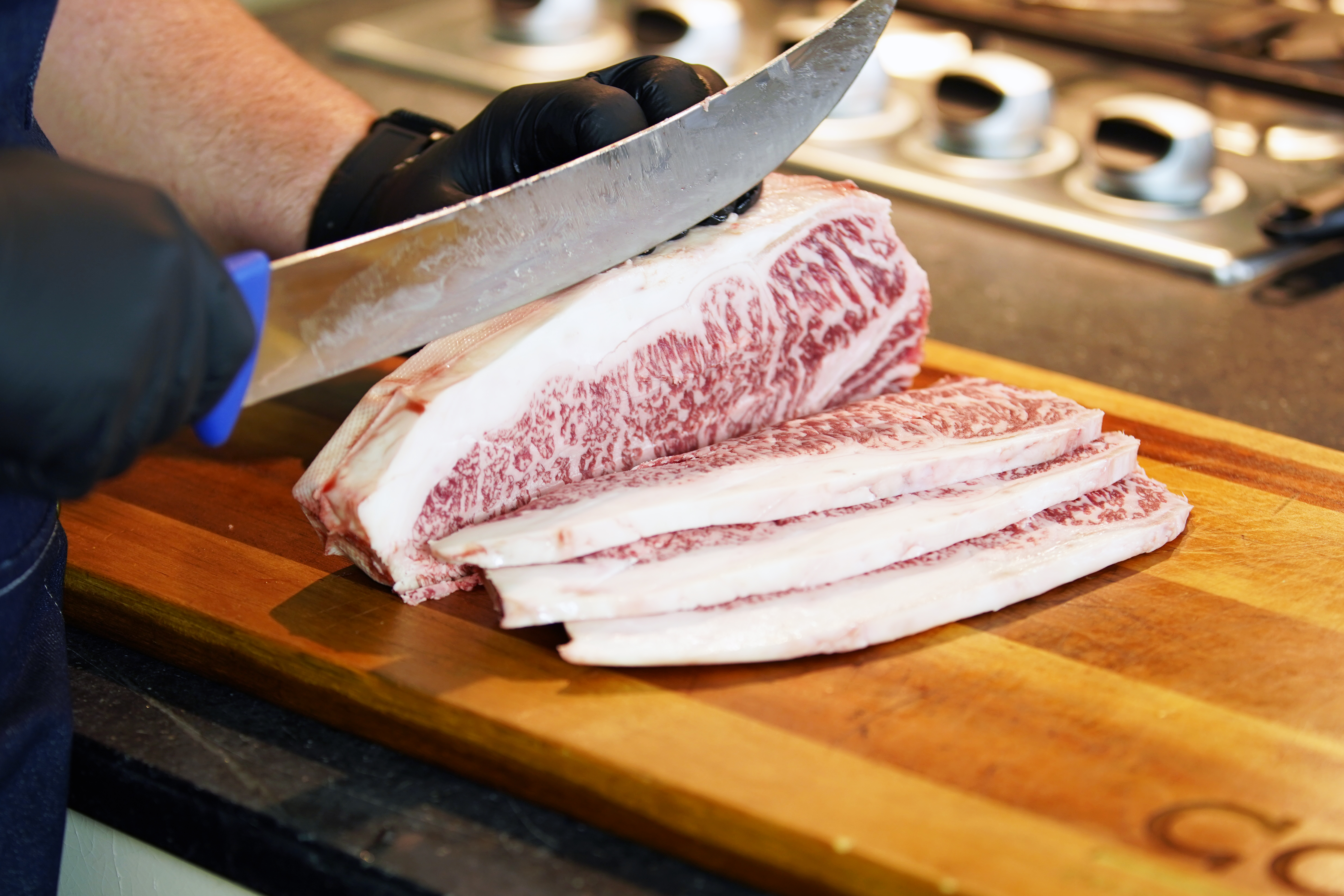 Kagoshima A5 Wagyu Roasts from Crowd Cow
A5 Wagyu Briskets & Roasts
On a pound for pound basis, there's not a more "affordable" way to purchase A5 Wagyu than to select a whole A5 Wagyu Tenderloin, A5 Wagyu Rib Roast, A5 Wagyu Striploin or A5 Wagyu Brisket Flat from Crowd Cow.
We ventured deep inside the Japanese beef world to bring coveted A5 Wagyu from hand-selected farms in Kagoshima, Japan the region that earned the highest average scores in last year's Wagyu Olympics.
At 8 to 13 lbs each, these whole primals will feed a lot of people, and will require a sharp knife and a steady hand to cut into steaks, but the extra effort will result in a nice savings -- and more Wagyu to enjoy.
Tips:
Try the striploin if you're looking for some flavor, and try the brisket Texas-style, low and slow.
For easy cutting, I recommend this Friedr Dick 12" Butcher Knife
Let the meat thaw before cutting, but not all the way to room temperature. It's much easier to cut when it's thawed but still cold and firm.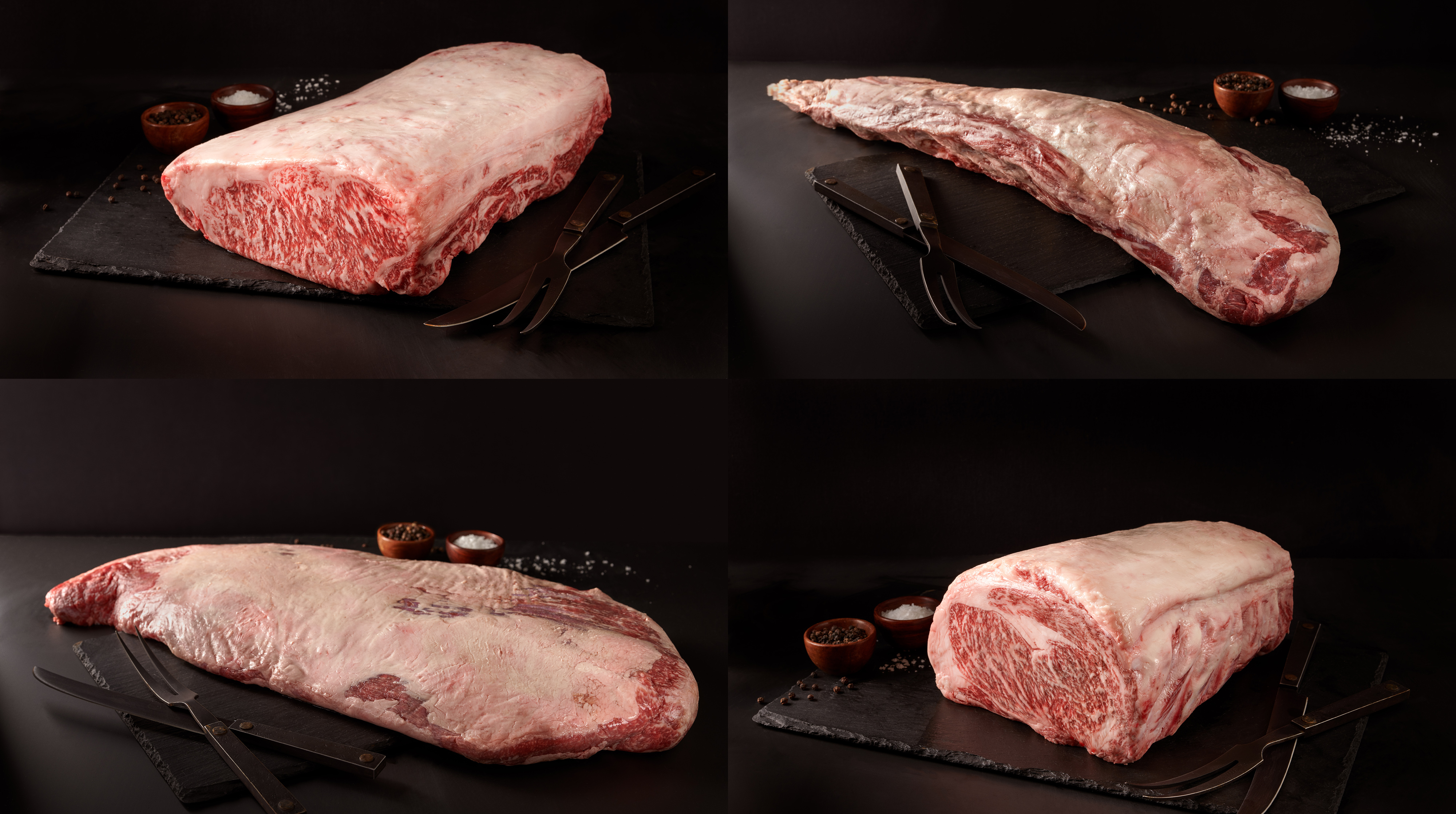 Use a Stainless Steel Outdoor BBQ Griddle
There are a few very good reasons you shouldn't grill A5 Wagyu over hot charcoal, including:
In Japan, it's almost always cooked on a flat, heated, stainless steel surface (teppanyaki grill.)
Wagyu fat will cause excessive flare-up when it melts out and catches fire on the charcoal
You'll want to keep the rendered A5 Wagyu fat to cook with. It's liquid gold.
I recommend investing $70 in a good stainless steel outdoor BBQ griddle. My favorite (by far) is the Little Griddle SQ180 Universal Griddle because of its very high quality construction and convenient built-in catch basin for collecting the rendered A5 Wagyu fat drippings.

Grilling Kagoshima A5 Wagyu Tenderloin on the Little Griddle
Sauté Veggies in A5 Wagyu Fat
How to impress your friends? How to get any child to eat any veggie as if it was candy? The answer to both questions is to sauté veggies using rendered A5 Wagyu fat with little salt and pepper. Trust me on this. Rendered A5 Wagyu fat is liquid gold.