At Slope Farms in New York's Western Catskills, Ken and Linda Jaffe are raising 100% grass-fed, grass-finished beef on hilly, ridge-top pastures that like much of the land in New England is ideally suited for grazing healthy and happy cattle. Their farm divides the waters flowing into Deleware and Susquehanna Rivers, and grows a mix of lush grasses during the damp summers and cold winters.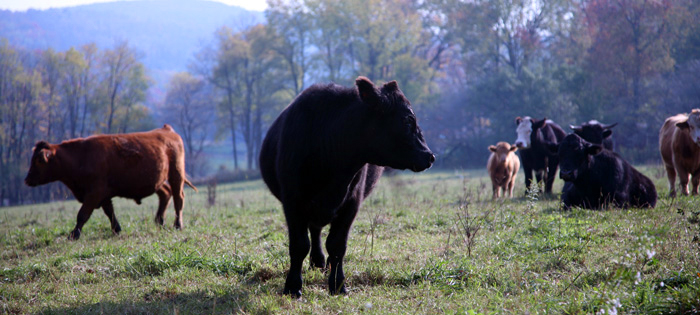 Ken farms in a way that allows grassland ecosystems to get on with what they've been doing for tens of millions of years: growing biodiverse pasture grasses, sustaining carbon-rich living soils, and getting a rotational "maid service" by cows who both manage and fertilize. Ken explains,
"Over the 14 years we have been raising cattle, our farm's soil has become better; the grass more abundant, diverse, and healthy; and the number of cattle thriving on our land has increased. And just like the natural system we emulate, we do this without plowing or seeding, without chemical fertilizers, herbicides, or pesticides."
Ken decided to start farming in the Catskills, where his roots go back four generations, because he loved healthy, delicious beef, and also because he was concerned about antibiotic overuse in livestock.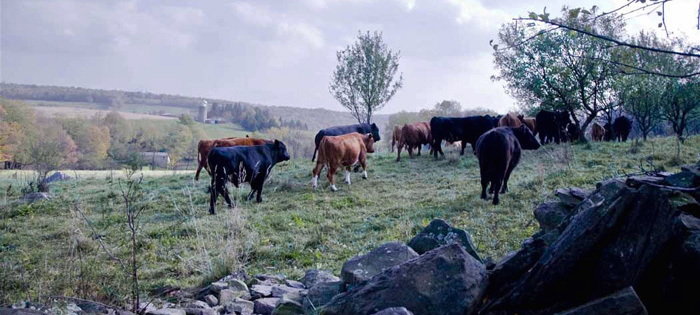 His professional background is in medicine, Ken was worried about the public health impacts of the antibiotic resistance crisis, particularly on kids who relied on the food they ate at school for good nutrition. Ken wanted to provide his neighbors and schools in the area with a solution to the antibiotic-laden that was usually available -- He decided he would raise antibiotic- and hormone-free beef himself.
He's built up a loyal following in the past 14 years, with both schools and New York City restaurants like Gramercy Tavern and Reynard's buying Slope Farms beef.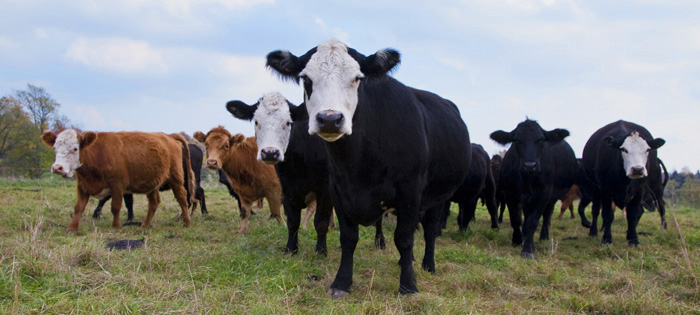 Cattle at Slope Farms lead "the natural lives of cattle," Ken explains.
"They are always on pasture; our calves stay with their mothers and weana late. In the winter, they have access to shelter if they choose, and in the summer they have access to shade trees."
Slope Farms is taking beef production back 100 years, to a time when it was healthier, kinder, and tastier -- a craft.