Beer. Coffee. Chocolate. Cheese. These keystones of the craft food revolution have given us some of the most easily-recognized emblems of craft, from armies of microbreweries to rainforest-certified cacao truffles to a widespread ability to distinguish Arabica from Robusta. Now Seattle's king of craft food, Kurt Beecher Dammeier, thinks beef is the next food in line for a craft transformation.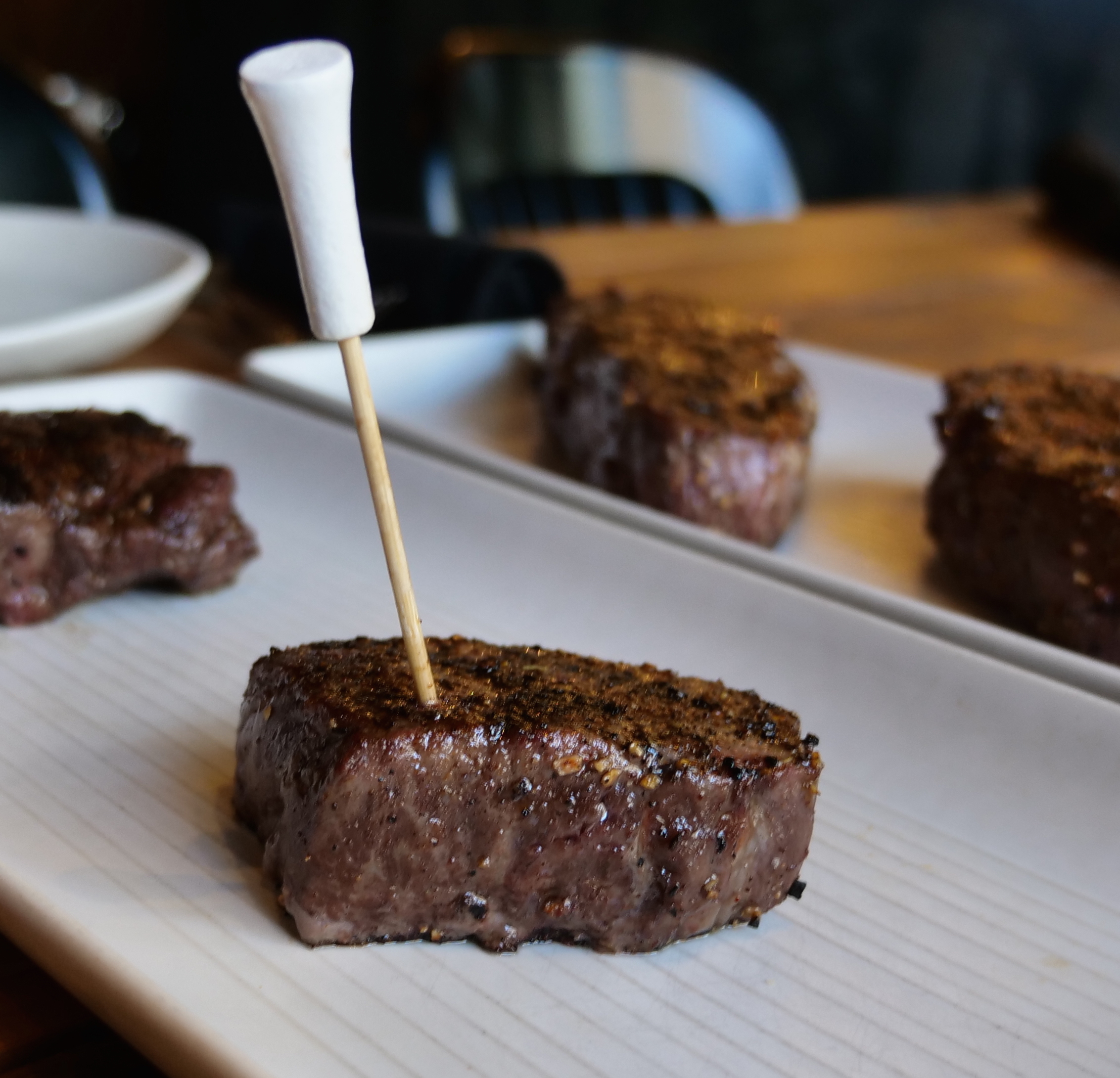 (One of the photos I snapped of Mishima Reserve beef, at the "steak-off" Dammeier and I held. A story for another time.)
"There's no doubt in my mind that grass-fed beef is the Hefeweizen and Wagyu is the IPA of artisan beef," Dammeier says as he gestures toward the Wagyu-stocked butcher counter in the entry of his South Lake Union steakhouse, The Butcher's Table.
Comparisons like these roll off Dammeier's tongue. Though you might know him simply as a prolific Seattle restaurateur, he's also spent the last two decades of his career honing a knack for identifying and getting in early on craft food trends.
Image credit to Sugar Mountain
In the mid-nineties, a handful of years before the doors of his Pike Place Market phenom Beecher's Cheese opened, Kurt Dammeier accidentally became a beer man.
"I had already figured out that craft beers tasted better, but I wasn't a beer geek."
He insists, "I really wasn't looking to get into beer."
But one day, he received a phone call from a friend savvy in the stock market, letting him know that an upstart Seattle-based beer company called Pyramid Brewing Co. looked like a promising investment. Already on the hunt for just such an investment opportunity, Dammeier channeled his "mini corporate raider" side.
He chuckles, "I bought 20% of the stock before they even knew it."
Dammeier then let Pyramid's leadership in on the secret, and quickly got rolling on recasting the board and bringing in a new CEO. He wanted to help Pyramid continue paving the way for more compelling, interesting, and better-tasting beers. And it worked -- both for Pyramid and the beer market writ large.
While the Pyramid Hefeweizen was claiming gold at the Great American Beer Festival, the grocery store beer aisle was exploding into the land of milk and pilsners it is today. Dammeier had demonstrated a talent for getting in on the front end of craftification.
Just a few years later, he had virtually the same experience with cheese, opening Seattle landmark Beecher's well the expansion and stinkification of the QFC cheese aisle. (When his handmade artisan cheese was first sold at Seattle grocery stores in the early 2000s, he laments, "The next best thing in the aisle was Jarlsberg.")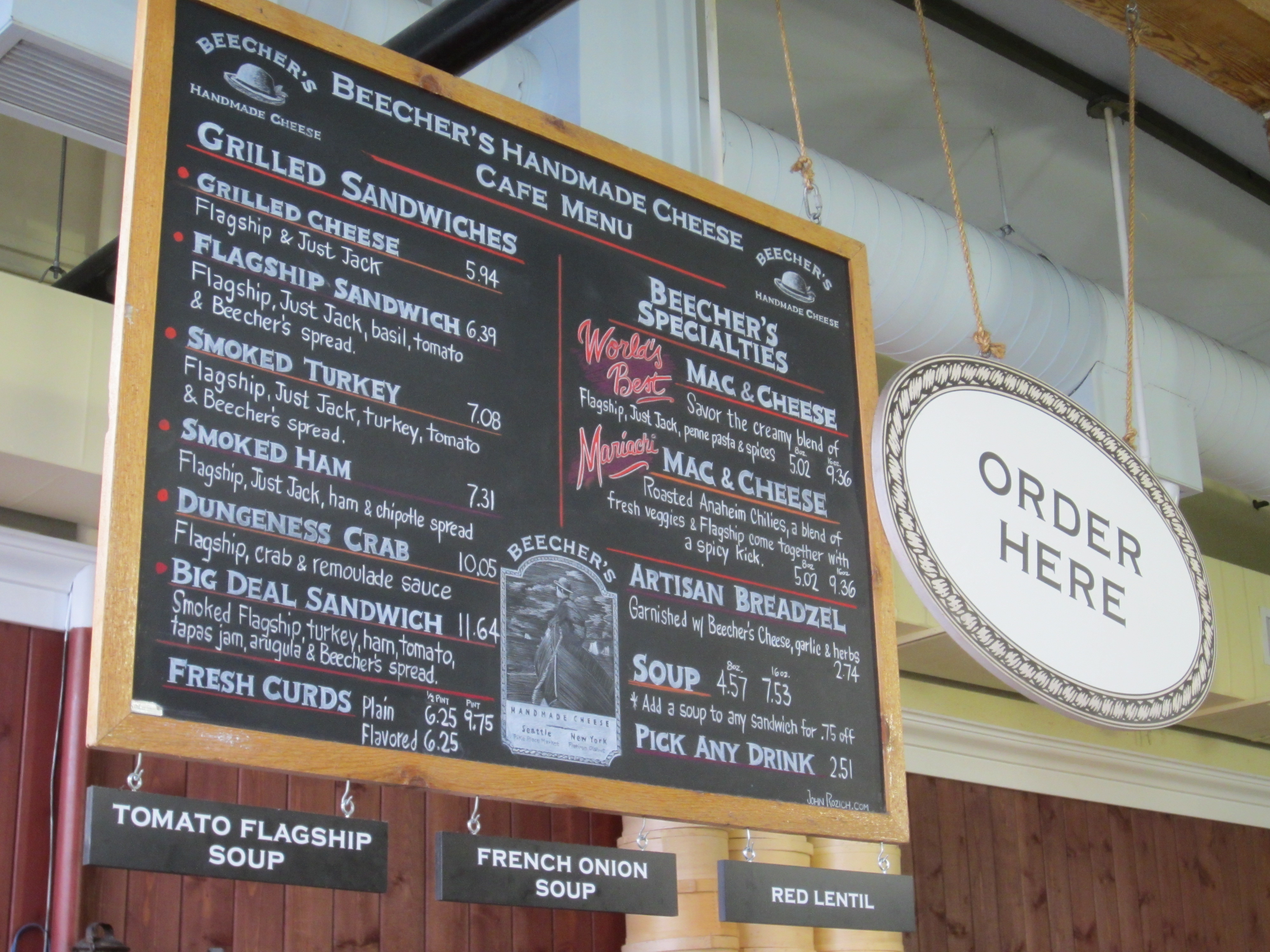 The cafe menu board at Pike Place Market's famous Beecher's Handmade Cheese
Dammeier claims his craft-food hunchmaking process is half economic analysis and half art.
"There are curves and natural ways [each market] evolves," he explains. But at the end of the day, it comes down to what his gut tells him.
Five years ago, Dammeier says, "I could feel that beef was starting to catch on." He pauses, searching for the right comparison. "If the beer business was in the 8th inning, and cheese was in the 6th inning, beef was in the 2nd."
That was apparently good enough. Dammeier went all in and bought an Angus-cross-Wagyu beef company called Mishima Reserve, a beef brand (not a farm) that does not raise their own animals, and decided to open a steakhouse where he could have full transparency "from the gleam in the bull's eye to the plate."
It was an unusual move for the world of steakhouses, whose usual emphasis isn't on de-obfuscation of sourcing, but on other qualities like dry-aging and USDA prime grades. But transparency was only part of what it means for a food to be craft, and Dammeier wasn't done.
If you peruse the Butcher's Table menu, you'll see it features exclusively Wagyu-Angus cross beef -- "Wangus" -- a beef that is similar in taste to Angus beef, but because of a percentage of crossbreeding with Wagyu DNA, can reach boosted marbling levels similar to USDA prime in some cases.
But don't be confused by the Japanese-sounding name and use of Japanese language characters in the branding and on the menu -- this is not Japanese beef from Japan, nor is it the rare and special purebred or fullblood Wagyu that is produced by an exceedingly rare specialist breeders in this USA. Butcher's Table and Mishima Reserve is not pure Wagyu -- it's "Wangus" a crossbreed of Angus with an unspecified level of Wagyu DNA, an increasingly common beef varietal that tastes like Angus and can reach USDA prime marbling levels. Now is "Mishima Reserve" a farm. They do not raise animals, but rather source them from many farms as calves before moving them to a feedlot for finishing on a grain-based diet.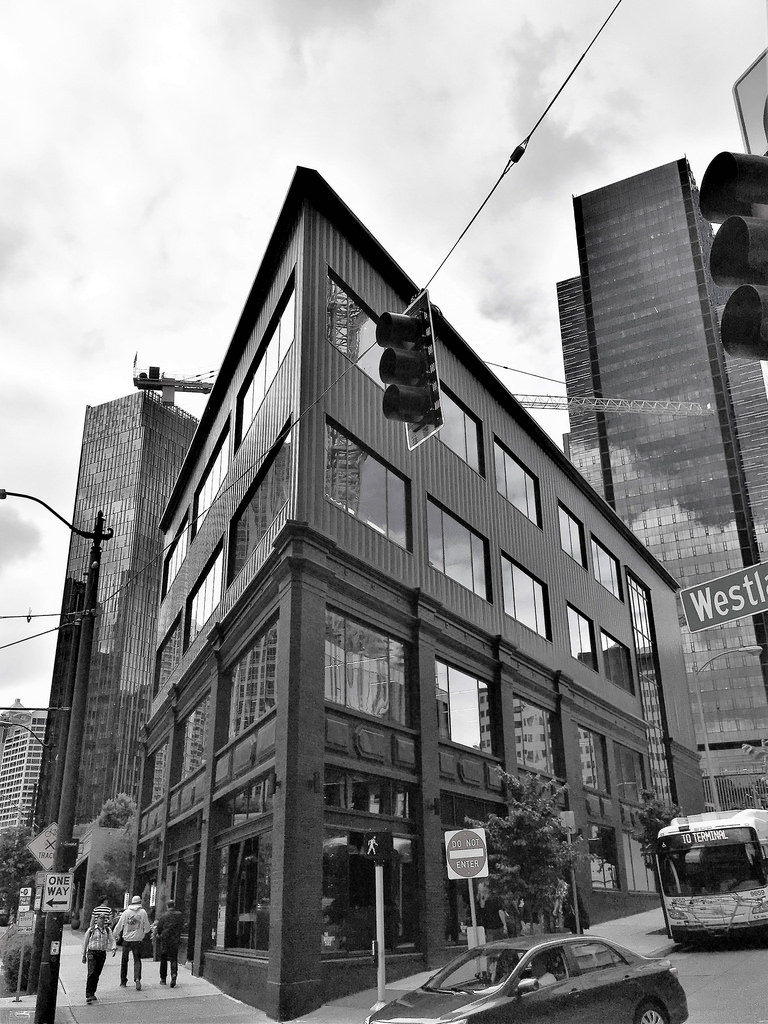 The Butcher's Table in South Lake Union, Seattle
And at only 8-oz portions, Butcher's Table steaks are cut way smaller than normal -- it's not your Outback Steakhouse fare by any stretch of the imagination. He compares the thinking behind his Mishima Reserve beef to what happened when beer went craft.
"It's higher quality, and there's less of it."
Dammeier sees all these factors -- smaller portion sizes, exotic breeds, and transparency -- as some of the touchstones of craft beef. And as for where he thinks craft beef is going next?
"Grass-fed and Wagyu are right at the heart of the beef movement."
He's not wrong. Over the past several years, retail sales of grass-fed beef have been growing at an incredible rate of 25-30% per year. And interest in Japanese and American Wagyu has skyrocketed recently, too, with many more restaurants offering Wagyu-cross beef, and interest in A5 Wagyu imported directly from Japan expanding quickly as well.
When you talk to Dammeier, you get the sense you're in the presence of a craft-food fortune teller. He leaves me with a tantalizing promise.
"If you look back 10 years from now, the beef category will look very different than it does today."