Are you interested in making fall-off-the-bone tender ribs at home? Or do you already have a home smoking setup, and want to step up your game?
We wanted to learn from one of the pros, so we sat down with Jeff Phillips, creator and editor of Smoking-Meat.com, to get the inside scoop.
CC: Tell us a little about yourself and how you got into smoking meats.
JP: Born and raised in North Carolina, I started grilling just out of high school and sort of taught myself through a lot of experimentation. We didn't have the internet back then so it was books from the library or just trying something to see if it worked. I used a small hibachi for the longest time and came to find out it's not the easiest thing to cook. But, I did get pretty good at it.
I didn't get into true low and slow meat smoking until after I was married and someone gave me a cheapo water smoker. My first attempt wasn't even edible since I just filled the charcoal pan with mesquite chunks and lit them up. It was disgusting! I did some research and discovered that it's best to use charcoal for heat and just a few pieces of wood for smoke.
I'm a fast learner and I was cooking up smoked meats for everyone within a very short time...Some were even encouraging me to open a restaurant!
CC: What inspired you to found Smoking-Meat.com?
JP: As I said, I got pretty good at smoking meat and seemed to have a knack for it. I was pretty dismayed at the lack of information online regarding smoking meat. With a little encouragement from my brother, I set up a website and started writing down just a few tips to help folks avoid making the same mistakes that I did. It became a fast success and within just a short time I was getting daily emails from people all over the United States and even other countries asking me questions about smoking meat.
Within a month or so I created a Yahoo group (now a full blown forum with more than 100,000 members) and I started producing a monthly newsletter to share recipes and things I had learned about smoking meat. We now send that same newsletter out weekly to more than 350,000 subscribers.
CC: What advice do you have for someone who is brand new to smoking meat but wants to get started?
JP: If you want to learn how to cook low and slow over charcoal, you can do that. But if you are all about the food and the flavor, and you want to make it really easy on yourself, purchase a pellet smoker or an electric smoker that you can set and forget.
And, of course, join the Smoking Meats Forum, sign up for my weekly email instructionals and just start practicing. My recipes are full of pictures and I try to make things as easy as possible to understand.
CC: How about a seasoned smoker who wants to step up their game? What's the one thing experienced smokers are missing out on?
JP: Forget the "rules"! Lots of old school folks have been preaching the "rules" of barbecue for ages. Forget most of that and open up your horizons to new ways of thinking.
Maybe foil isn't such a bad thing after all? Perhaps fall-apart tender ribs are not the "wrong" way to do ribs?
Lastly, don't be afraid to use technology such as digital thermometers, temperature controllers and electric smokers to make things easy and to add a more scientific approach to outdoor cooking.
CC: You are a proponent of the 3-2-1 smoking method. What is it, and why do you like it?
JP: In spite of many old school guys preaching that pork ribs should not be overly tender, the biggest request I get at Smoking-Meat.com is how to make ribs "fall off the bone" tender. The 3-2-1 method came from these types of requests, and is simply a way to use foil during the cooking process to braise the ribs and super tenderize them.
The first step is to cook them directly on the smoker grate for 3 hours. The ribs are then wrapped in foil and continue cooking for 2 hours during which time they get really tender. The last step is to unwrap them from the foil and place them back on the grate to cook for 1 more hour. This last hour re-forms the crust on the outside and allows for painting on sauce if you like them that way.
The 3-2-1 method is specifically for spare ribs. If you're doing baby back ribs, the first step in the process is reduced by one hour and is called the 2-2-1 method.
My family also like the ribs to be a little more on the tender side so this is how I do them when I'm cooking at home.
CC: You've developed your own original dry rubs and barbecue sauces. Tell us about what goes into developing time-tested recipes any home-cook can use.
JP: The first step in developing recipes is in determining what you like and do not like in terms of flavor, consistency and texture. I ate a whole lot of bad barbecue sauce and dry rubs before I finally decided to see if I could come up with something better. One also has to be willing to listen to a lot of honest feedback and be able to take it constructively.
I went into this process knowing exactly what I did not like about most sauces and rubs on the market. Once I started adjusting the ingredients in the recipes, I continued asking for feedback from others and making changes accordingly until the feedback became mostly positive.
I've been selling the formulas for the recipes I created for more than 12 years and just started bottling my product this year. Those will be available for sale very soon.
CC: It seems like you prefer using lump charcoal over briquettes. Can you tell us why?
JP: Lump charcoal is the closest thing you can get to real wood and seems to have better flavor than briquettes. The industry has changed a lot over the last few years but briquettes have been known to have a lot of extra binders and other unwanted ingredients. Some of these infuse flavors into the food that just doesn't taste very good.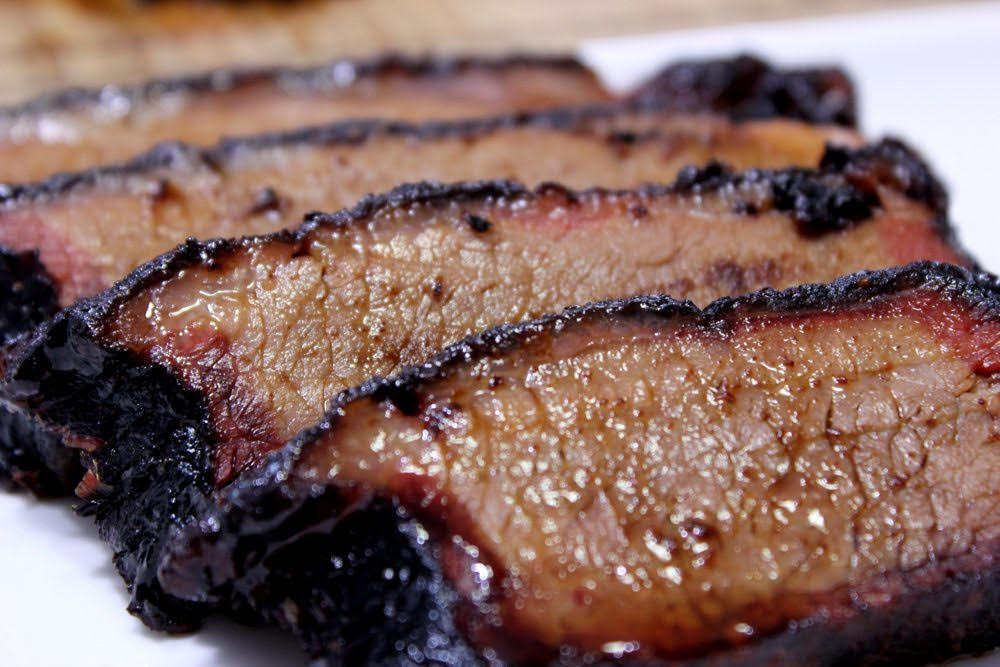 CC: What is your favorite cut of beef to smoke, and why?
JP: My favorite cut of beef is back ribs, although it is hard to find meaty ones as these are cut from the rib roast (prime rib) and most of the meat is usually left on the roast. These ribs are extremely high in flavor and the smoke adds something to them that can't even be described with words. They are delectable when cooked low and slow in the smoker until they are tender, tasty and smoky!
CC: What is the strangest thing you've ever smoked?
JP: That would have to be spam. I'm not actually a big fan of spam but I've always been a believer that smoke makes anything better. With the beer barbecue sauce I made for it, and the smoke, it was actually pretty good. Here's the recipe!
To learn more from Jeff: Check out Smoking-Meat.com